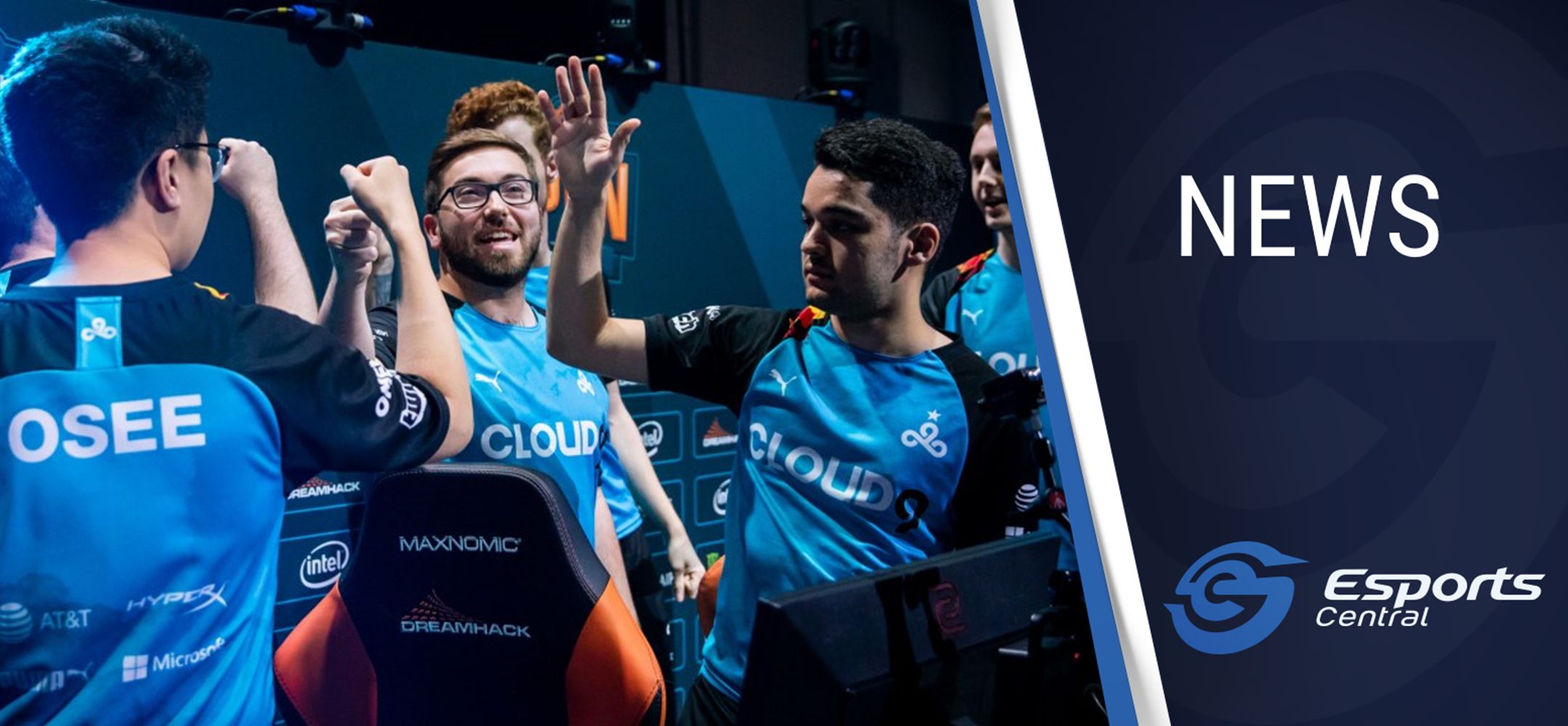 Reviewing Cloud9's performance at DreamHack Open Leipzig
Matthew Stott
Cloud9 competed at DreamHack Open Leipzig this past weekend where they had underwhelming performances. They were eliminated during the group stage after being beaten twice by Renegades. 
This was their debut LAN event under the new organisation. The goal for the event, although extreme, was realistic: win the whole thing. Considering that they didn't even reach the playoffs I think it's safe to say they'll be disappointed.
Not all the factors were in the team's favour. There wasn't much time between qualifying and travelling to the event meaning there wasn't time for a Bootcamp. On top of that their star player Aran "Sonic" Groesbeek was sick during the LAN affecting his performance. 
The Opening Match 
Cloud9's first game was against Renegades. Both of these teams are actually in similar situations having recently signed for their new organisations. About 6 weeks ago Renegades signed the then Grayhound team to replace their previous roster that signed with 100Thieves. The point being, that both of these teams would have been desperate to have a good run at the event.
A best of one on Overpass, a map that Cloud9 is very comfortable on. Leading up to that game, Renegades had only played two officials with their new roster on the map. Perhaps that lured Cloud9 into a false sense of security because Renegades were actually well prepared. 
With the match being a best of one it was vital that they got off to a good start, which unfortunately wasn't the case for Cloud9. Renegades hit the ground running, punishing Cloud9 for any small mistakes. They romped to 11-1 before Cloud9 managed to pick up a few more rounds. At halftime, it was 12-3 and the Aussies were set up well to close out the match. 
After Cloud9 lost the 2nd pistol it seemed like a foregone conclusion that they'd lose the game, however, they conjured up a bit of a fightback. They managed to win seven rounds in a row, making the game interesting again at 13-10. That would be all they could manage though. Renegades hit back with three consecutive rounds, and with that, won the game 16-10. 
The Elimination Match 
After Cloud9 lost their opening match they dropped down into the lower bracket. The other opening match that took place in their group was between Virtus.Pro and BIG, which the Germans won. It was actually considered an upset when BIG beat VP, which is ironic because BIG went on to win the event. 
So it was set up, VP vs Cloud9, with the loser being the first team to be eliminated from the tournament. Because this was an elimination match, it was a best of three, which would have given both teams a bit of relief. Keep in mind that Virtus.Pro were the supposed favourites to win the event, so that would have added pressure on both of these teams. Pressure on Cloud9 because they're playing against the favourites, in an elimination match and pressure on VP because they were the favourites on the brink of being eliminated, during the group stage.
Cloud9 went on to comprehensively beat VP. They stuck to their guns by picking Overpass and it paid off. Their T side was full of vigour and they had their characteristic flow in full force. They picked up 12 rounds in the first half decimating VP in the process. VP found it incredibly tough to shut down the B hits that Cloud9 were constantly throwing at them. Not only that, but Cloud9 did a good job of changing things up, making it difficult for VP to read. 
Cloud9 won the first map 16-4 giving them a resounding boost of confidence. They continued in the same form on the 2nd map, Dust_2 where they won 11 rounds in the first half after starting on the CT side. VP were blown out of the water on their own map pick, and it must be said that they looked absolutely hapless. Before long, Cloud9 closed out the map 16-7 and kept their tournament hopes alive. Ian 'motm' Hardy had a fantastic match, picking up 45 frags with an ADR of 106.6. 
The Decider
BIG beat Renegades in the winners match setting up a rematch between Cloud9 and Renegades. The loser would be eliminated from the competition, and the winner would progress to the playoffs. 
This time around it was a best of three, and Cloud9 didn't take any chances, picking their trump card Inferno as their map. Unfortunately, it didn't quite go as they'd have liked after the first half. They got off to a solid start putting up a competitive 7 rounds on their T side but that would be all they could muster.
Again the Renegades train gained momentum and ploughed straight through the Cloud9 defences. They won 8 consecutive rounds and closed out the map 16-7, edging them one step closer to the playoffs. Renegades' map pick was Dust_2, a playing field Cloud9 certainly aren't unfamiliar with. 
Renegades got the better of Cloud9 on their T side, they consistently found picks around the map and exploited the space created. Renegades had a superior 20 opening frags to Cloud9's 8. They picked up 12 rounds in the first half again putting Cloud9 in a position where they had literally no room for error. 
Cloud9 actually had a decent run on their T side, bringing the game all the way back to 13-10. Finally, Renegades found their footing on the CT side and progressed to match point, and soon after won the game 16-12. With that Cloud9 were eliminated from the tournament and Renegades were through to the playoffs. Renegades made it all the way to the finals, where they were hammered by BIG. 
Conclusion
It just seemed like Cloud9 weren't able to string two solid halves together in the games that they lost. In all of the maps they lost, at least one of their halves was decent. Either they had left themselves with far too much to do after an underwhelming first half, or they weren't able to build on their decent first-half performances.
Heading to Katowice it's imperative that they manage to keep their heads in the game for the entire map. The competition they'll be fronting up against is a cut above what they played against at this event. I think that this team has a lot of potential, but also a lot of uncharted territories. With more experience, they'll be better equipped to compete on the big LAN stages.
IEM Katowice starts on the 25th of February and Cloud9 will stay in Europe until then to give themselves as much time as possible to prepare. It features 24 teams, including the entire top 10 teams around the world. The prestigious tournament has a $500,00 prize pool and the playoffs will be played at the Spodek Arena.
[Photo credit: Dreamhack | Stephanie Lindgren]