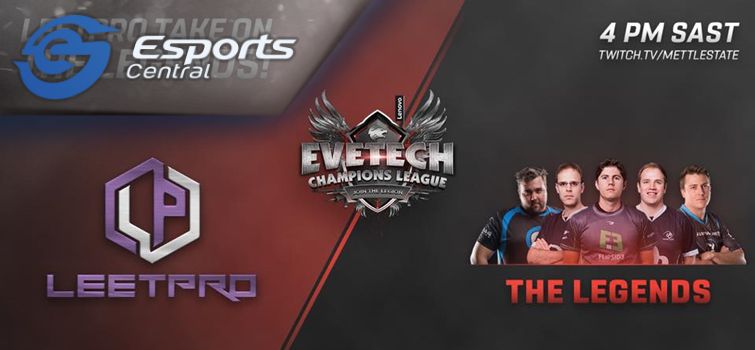 Evetech Champions League: Leetpro vs The Legends
Michael 'axtremes' Harmse
Sunday the 10th of June, 2018 will mark the return of Evetech Champions League to South African CS:GO. The inaugural and only season was held way back in 2016. To herald it's long-awaited return, Mettlestate will be indulging in one of their specialities. They are hosting a show match to whet everyone's appetite for the main season, and they are sure to be furnishing more details of it at the show match conclusion. The R10000 prize for the show match is sponsored by PC industry titans, Lenovo, and their Legion gaming brand.
The 2016 retrospective
The first season of Evetech Champions League (ECL) consisted of several weeks of online league play. From there, eight teams qualified for the LAN finals at the Evetech Studios in Centurion. Of course Bravado Gaming's all-conquering 2016 lineup managed to win the whole shebang, beating Aperture Gaming handily in the Grand Final. Their only misstep in the entire tournament was a small scare against xTc Esports on Train. Otherwise it was was very much one-way traffic. So business as usual two years ago for BVD.
I brought up ECL Season One, because it was my first ever live esports event. As I understand it, it was also Sam "Tech Girl" Wright's as well. It's where I cut my teeth as a commentator, covering numerous online matches two nights a week with my then co-caster Nathaneal "BurningRed" Slabbert. ECL is an event I feel a great deal of sentimentality towards. Even if I'm not proud of my efforts as a commentator in hindsight, since I was so very new at it back then. I'm really happy that it's back on the calendar.
The showiest of matches
Back to the present. In an innovative move, Mettlestate took an alternative approach with the show match. Rather than pit two current top teams against each other, they created an antagonist team they called The Legends. This team, consisting of some current and former players of extensive experience and pedigree, would face off against a team of the public's choosing. Goliath Gaming, Big 5 Esports and Leetpro Esports were presented as the options for the CS:GO community to vote for. Essentially the fans got to choose their hero to face the antagonists of the old guard. The public voting lead to a landslide victory for Leetpro.
The teams
The Legends
Dillon

"uNreaL"

Jost

Dane

"racno"

Friedman

Jannie

"HellHound"

Van Niekerk

James

"zerOch4Nce"

Wjinberg

Riaan

"stYle"

Van Niekerk
Leetpro Esports
Aaron

"Slowye"

Van der Walt

Brad

"BaNaNaZz"

Altona

Tiaan

"Tiaantjie "

Rheeder

Jaun

"Zeo"

Nieuwoudt

Jan

"Takbok"

Theron
The big showdown
At 4pm SAST on Sunday, 10 June we'll get to see the big game. Will the Legends have what it takes to take it to the Leetpro squad? They've certainly got the experience within their ranks to be competitive. Brothers stYle and Hellhound were both last in action as recently as the WESG South African Qualifier Grand Final in January against Bravado. Hellhound was one of the finest aimers in the country with the AK-47 for many years, but had been experiencing a dip in that form in the last year or so. His brother stYle was still showing occasional flashes of brilliance on the AWP, but had also been struggling a little for consistency toward the end of his career. They will no doubt have been working hard to get back up to full strength as players.
Last-minute replacement uNreaL will be taking over from Bravado owner Andreas "cent" Hadjipaschali. He's been an active player until recently, so should be on form for the Legends. I last saw racno playing as a substitute for Exdee Gaming last year. He might be a bit rusty, but in his day was a formidable player. Finally, the recently un-retired zerOch4Nce of Sinister5 will be filling the last slot for the team. I would imagine he would be in game leading for the team as well considering that is usually his main role for his teams. We could see zerOch4Nce on the AWP as well since he has been wielding it for Sinister5 of late. It could just as easily be in the hands of stYle. It could make for a potent AWP setup on CT sides. I'm really excited to see these veterans in action!
Showing up for the showdown
Will they be any good? That's quite hard to tell. The constituent parts of the team are certainly individually skilled and boast the experience to be able to come together to form a competitive team. Their opponents, Leetpro, are currently competing in VS Masters and ESEA Open Season 28. They are more battle hardened and have some great players, with a blend of explosiveness and experience that looks compelling on paper. However, they've not been as much the picture of consistency as I would have hoped in their recent performances. They are not invulnerable by any means. Just based on the fact that they are a currently active top ten team, if I were a betting man, I'd put my money on Leetpro. However, I would not count out the Legends team. These players will all be highly motivated to show that they've still got what it takes. It's going to be a fascinating and hopefully very entertaining spectacle.
The match can be viewed live here at 4pm on Sunday.
[Header image via Mettlestate]