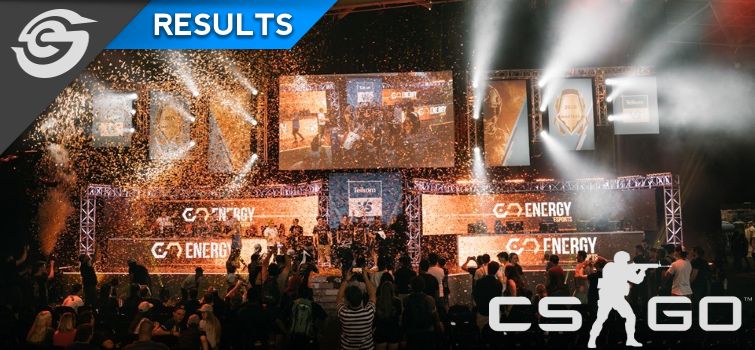 CS:GO Analysis: Winners & Losers of Comic Con Africa, and their prospects at rAge
Matthew 'HAzE' Stott
Energy Esports completed the double winning back-to-back Comic Con Africa titles. They had a fantastic showing throughout only dropping a single map across three matches. The new Telkom VS Gaming Masters Champions walk away with R220,000.
It went against popular opinion that Energy would do-the-double. A vastly different team that won the event in 2018 with Dweezil being the only familiar name. In this article instead of focusing on breaking down each game I'll look at the winners and losers of the event. Essentially, which teams will be happy with their performance and which teams will be expecting more from themselves heading into rAge. 
This is my opinion on the Winners and Losers of Comic Con Africa, followed by their prospects at rAge Expo coming up this weekend. 
Losers
Goliath Gaming
Goliath Gaming were my favourites to win the event but they were knocked out in the semi-finals by a rampant Energy Esports. Before that they were made to work hard for the win against Exdee Gaming. Perhaps Goliath just struggled to settle into the event, starting at the quarter final stage you don't have time to find your footing. 
Energy trounced them 16-12 on Vertigo and 16-8 on Inferno, supposedly one of Goliath's strongholds. Not often you see Goliath getting beaten so convincingly. I definitely foresee the boys bouncing back heading into rAge. They'll be fueled by the disappointing result and come at their opposition hard this weekend. 
They have unfinished business heading into rAge and during this break period they'll have a chance to figure out what went wrong. Sporting the likes of Detrony, massacRe and adaro it's safe to say they'll come out swinging. Don't let the result at Comic Con deceive you, this team is power.  
Sinister5
They Struggled in both of their games. They often had substantial leads on a map which they weren't able to capitalise on. The prime example of that being the 13-3 lead against WRG turning into at 14-16 loss. They lost 7 clutches and only won 2 in that match as well, something you don't expect from a team that has a star studded lineup. 
It happened again on Train against Big 5 in the semi-final. They were on the CT side up 11-6 after dominating most of the game. Big 5 clawed their way back and closed the map out in overtime, 19-16. MisteM was great throughout, as usual, but he didn't consistently have someone else also putting up the numbers required to close out the games. 
The good news for Sinister5 is that they were getting into positions to win games comfortably. In an interview zerOch4Nce even mentioned they need composure in those narrow situations to close it out. Heading into rAge I think we'll see more of the Sinister5 we know. Their first match is against Good Gaming so once again they're starting their campaign against solid opposition. 
Good Gaming
They a tough opening match, playing against the eventual tournament winners. Still though I expected more out of them. JayS even mentioned in the post match interview that they over thought the occasion. Perhaps focusing too much on what Energy were trying to do and not enough on what they were trying to do. 
There were glimpses, like on the T side of Dust_2 they managed to wrack up a 7-8 half with some decent teamwork. They also had a decent passage on the T side of Mirage but decent passages don't win matches. They'd have learnt a lot from the game, particularly on how to approach similar matches in the future.
It's safe to say we can expect more from Good Gaming heading into rAge. They'll have to step up their CT side in particular heading into the event. If they can do that in the short space of time I think they'll be a lot more competitive. 
Their opening game is against Sinister5, one of the top 4 teams. They bested Sinister5 in July at the Telkom VS Gaming Championships 2-0 so that'll be fresh in their minds. This time round however Sinister5 are playing with MisteM and Good Gaming's first challenge will be to negate his individual impact, which most teams struggle to do. 
If Good Gaming are able to right their wrongs of Comic Con I think an upset is on the cards here. Their teamwork is great and it'll go a long way in combating the individual stars of Sinister5. This will be a great match. 
Omnius Gaming
OG were always going to have a tough task on their hands. Playing Big 5 in a do-or-die, opening match is a high octane situation. They were blown out of the water with two consecutive 4-11 halves. They'd probably have been hoping to push Big 5 a bit harder but like I said, it was always a tough ask. 
The format at rAge will favour Omnius a lot more with the double elimination bracket. With their opening match against Goliath it certainly won't be any easier this time round. They'll probably be dropped to the lower bracket where hypothetically they should play a team where the gap won't be as vast.  
I don't see as much upset potential as I do with Good Gaming and WRG but I think the team can do damage. If everyone's firing they should be able to compete against all teams outside the top 4. 
Winners 
Energy Esports
The Winners of Winners. For a team that made two roster changes recently it was an incredibly impressive run. They had a surprisingly solid map pool, picking Vertigo against Goliath in the semi-final and beating Big 5 on Overpass with a much improved T side. It's quite clear they had a productive boot-camp prior to the event. Their first match was against Good Gaming on the stage. It didn't take long to see that this Energy team was already multiple levels above what we saw a few weeks ago. Winning both maps they booked themselves a spot in the semi-final, against Goliath Gaming. 
As mentioned they picked Vertigo, which proved to be a stroke of mastery, winning it 16-12. Heading into Inferno Goliath still would have been confident but Energy had their number. Dominating the map 16-8 they qualified for the final with Big 5 being their opposition. The Final was a great spectacle. Big 5 won the first map of the series which was Energy's pick, Mirage. Heading into Overpass Energy needed a win to keep themselves in the hunt, and win they did. With a 16-13 it was a nerve wrecking affair, taking us to Inferno, the ultimate final map. 
Fittingly the map went to overtime where eventually Energy triumphed. bLazE played out of his mind the final map picking up 40 frags. Energy successfully defended their title against Big 5. They'll be super confident heading into The ROG Invitational riding the wave of momentum. It's going to take something special to stop this team. 
Energy will have a target on their back heading into rAge after this performance. They've set the bar high and teams will certainly be more aware of their potency. Winning rAge would solidify them at the top, right now they're in the proving grounds. I think winning Comic Con brands them as favourites heading into this event, particularly because there's such a short turn around.
Big 5 Esports
On any other day the performance they put up in that final would have been enough to win. Energy just had an insane game and Big 5 were unfortunate to be on the receiving end. The point is that they play fantastically too. All 5 players had great moments throughout and once the dust settles they'll be proud of their run. 
They made quick work of Omnius Gaming backstage confirming a Sinister5 vs Big5 semi-final. The game was on the stage as well, and Big 5 pitched up to play. They dominated the first map and had a really impressive comeback on Train after being down 6-11. Winning the match 2-0 they made it to the Grand Final, replicating the finals of 2018. 
Unfortunately once again Big 5 went down in the finals to Energy in a match that'll be remembered for some time. It means they took home R100,000 for 2nd place. They'll be feeling really confident heading into rAge. With a week between the two they'll have some time to amend the small things that may enable them to go one step further.  
White Rabbit Gaming
WRG should be proud of their performance, they played a great game against Sinister5. The 15-year-old mango lived up to expectation having an impressive series throughout, along with doru they were a formidable duo. The two consistently caused problems for Sinister5 on all three maps. 
On the first map they were down 3-13 at one stage, on a force buy it seemed hopeless. Things looked bleak especially considering it was their map pick. Somehow, WRG managed an insane comeback and turned the game around winning it 16-14. Sinister5 went on to win the following two maps but there were multiple stages in the match where it seemed like WRG may be on for the win. In the end the experience and individual brilliance got Sinister5 across the line.
The WRG boys will have a wealth of confidence behind them heading to rAge. Having the comfort of the double elimination bracket will give them a greater chance of going far. I think this team has the potential for a top 4 placing. When all five players are on point they have a lot of fire power coupled with coordinated aggression. 
Their first game is against Energy, that'll be tough especially considering Energy are on cloud 9 right now. WRG will be determined to push them but an upset is unlikely. They stand a good chance of beating all the teams outside the top 4 meaning they should make a decent run through the lower bracket.
Exdee Gaming
Had an impressive display in their lone match against Goliath Gaming. It's a pity that it was back stage because it was a fantastic match. Exdee went with the Nuke pick and it nearly paid off but Detrony and adaro went nuclear wracking up 66 frags between the two of them. The fact that the Goliath only narrowly won 16-13 shows how well Exdee played. 
Next map was Mirage, Goliath were probably expecting a bit of an easier game than what they just had, which wasn't the case. Exdee pushed even harder on Mirage even reaching map point first. The game went into overtime where Goliath closed it out 19-16. Both aw3some and Wip3ouT had a good series putting up decent numbers. 
Unfortunately we won't be seeing Exdee at rAge. Instead it'll be the Gentleman's Club who are probably the weakest team heading into the event. They were able to beat Damage Control in the qualifier, which is no mean feat. Playing Big5 first they'll most likely be dropped to the lower bracket, where their chances of making something happen will be a lot better. 
Conclusion
Mettlestate will be hosting The ROG Invitational which, in contrast to Comic Con, will feature a bunch of matches over the weekend. With a lower bracket there's a ton of CS coming our way this weekend. 
First matches go live at 09h00 on each day with the Grand Finals on Sunday. The teams will be competing for their share of the R150,000 prize pool. The talent at the event will be LighteRTZ and Golz as the casters and Gareth Woods as host. 
I said it before in my preview of Comic Con Africa and I'll say it again. I won't be surprised if we have a different winner for ECL 2019, Comic Con and rAge.