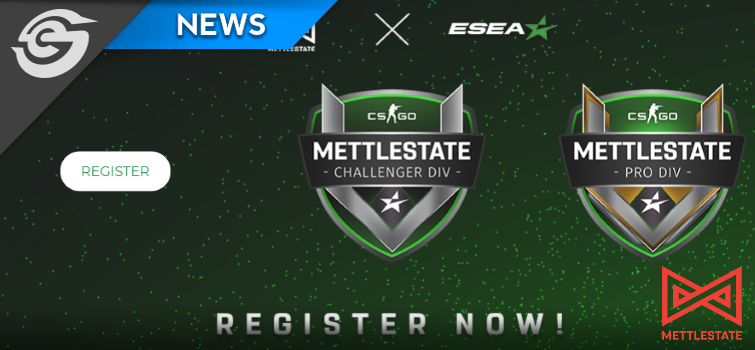 Anthrax on ESEA and Mettlestate
Mettlestate recently revealed their newly-minted partnership with ESEA. It's pretty big news for the South African CS:GO scene. Here's why.
E-S-E-hey?
The American-based CS:GO pickup game (pug) platform runs several high-profile international leagues such as the ESEA Mountain Dew League, where SA's best team ATK ply their trade in North America. There is also a local ESEA Open Division for South Africa that is set to start soon. The Mettlestate Club on ESEA comprises two divisions where individual players can grind away in pugs to potentially win prizes for consistently good performances. Very much the same concept as ESEA Rank S overseas or FACEITs FPL.
ESEA And Mettlestate working together also means there's some very exciting potential for future tournaments under the ESEA banner as well as the very welcome addition of their secure anti-cheat software to all future Mettlestate tournaments. That in itself is a massively positive step in the right direction when the vast majority of local tournaments are still run online. I hope to see other tournament operators following suit with similar anti-cheat measures.
Anthrax unpacks it all
I spoke with the always amiable Anthrax of Mettlestate, also know to his friends as Barry Louzada. The Mettlestate main man had some great additional insights.
Ax: You've announced the launch of the Mettlestate Club on ESEA. Could you explain for those that might not be aware how it works?
Anthrax: The ESEA Club initiative was launched in mid-2018, and allows players to find their communities and people to play with. The Mettlestate ESEA Club is exactly that. A place where players can join a community and play to win over $800 in prizes per month, or just play with their friends in the pug system for less than R100 a month. For a full breakdown of what you can expect and play for, head on over to the Mettlestate website.
It seems quite similar to the Souzern Lions Faceit Hub in concept. What would you say differentiates ESEA and why in your opinion should players choose your platform over the competition? Are there any unique features?
Since the two platforms are very similar in nature, they're always going to have a similar look and feel. I think the biggest difference is the fluidity of our league structure. With promotions and relegations every month between the divisions, it ensures a constantly active player-base and incentive if you want to get some of the amazing prizes up for grabs. This ensures no favouritism, as the most active and successful players will naturally make it to the Pro Division if they're good enough just by playing and being active on the platform.
I think you touched on the most important point there – choice. In this day and age, we have multiple choices for any product we wish to purchase, and esports should be the same. It's not about choosing one over the other, but more about offering players the choice and options of where they can play.
Do you feel that the South African CS:GO scene is big enough for both services to co-exist? Do you think one may eventually overtake and kill off the other?
I think our scene is big enough to handle both. In our view, adding more, regular prizes should only encourage participation and activity within the CS:GO community and allow both platforms to flourish. Both exist happily overseas, so there's no reason it can't do the same here.
The ESEA Open South Africa League Season 31 is supposed to start on the 29th of April, with registrations already closed. What can CS:GO fans look forward to from the league? Will Mettlestate be broadcasting weekly matches or only the playoff stages?
We will be supporting the ESEA League where and when we can, but no plans have been cemented quite yet. Expect to hear more from us about this in the future!
The addition of ESEA's Anti-Cheat technology to all future Mettlestate competitions is a welcome one for the community. There was the high-profile banning of Zonc in 2017 during a Mettlestate league. Do you feel that it will help stop similar situations from happening in future? What does it mean for the competitive integrity of matches in future?
Mettlestate always strives to hold the highest quality tournament possible, both for its players and the community at large. With the increase in cheating in recent tournaments both locally and internationally, we had to take action in order to ensure the future quality of all of our tournaments. ESEA, with its Anti-Cheat technology and client, solves almost all those issues for us, and provides a high-quality server platform for players and teams to play their matches. It was almost a no-brainer from us to explore a partnership with ESEA.
Syntech Masters will be run on the ESEA platform as well. Briefly tell us about that tournament. The Summit style broadcast with popular local players on casting duty sounds interesting. Any hints as to who those players might be?
The Syntech Masters, formally known as the Ballistix Masters, is a new partnership between us at Mettlestate and the awesome people of Syntech. The tournament will run over the course of about 3 months in total, and as you said, will feature a "Summit" style LAN final, with R150,000 in prizes and hardware up for grabs, split between two titles, CS:GO and Dota 2. We look forward to seeing who makes it to the LAN final and can promise there'll be a few special guests along the way!
Are there any other big (or small) things in the pipeline that you can tell us about when it comes to Mettlestate's involvement with CS:GO this year?
My formal response is a definite "maybe"! All jokes aside though, we at Mettlestate like to do things properly and in order to do so, we have to take time to ensure the quality of our tournaments. We have to take the time necessary to ensure that the quality of our tournaments remains high, as well as ensuring that all the paperwork is in place. So although I can't tell you anything right now, I can tell you we love the passion in the CS:GO community, and are always are always striving to do our best to make things happen for the scene.