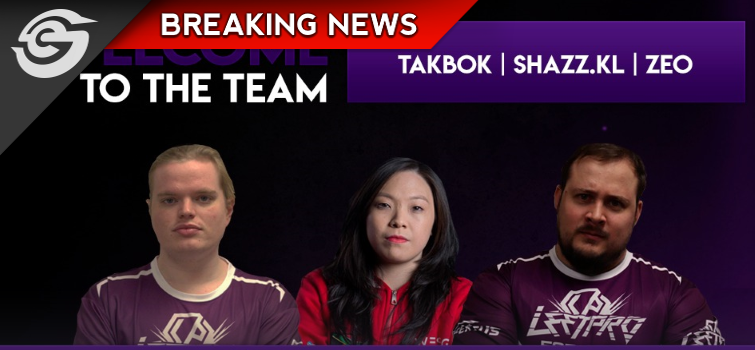 Leetpro announces CS:GO roster changes
Michael 'axtremes' Harmse
Some rather substantial roster moves have just been announced by Leetpro Esports for their CS:GO roster. We thought the changes worth some analysis of how it may affect the team balance going forward.
Older and newer
The new players are certainly all experienced and skilled campaigners. According to their press release:
The Leetpro.CS boys welcome the addition of Jan "Takbok" Theron and Jaun "Zeo" Nieuwoudt to its core line-up, while well-known South African female player Sharon "ShazZ" Waison joins Leetpro.fe.
The one deag hero
Undoubtedly ShazZ could hold her own in any team, as she has repeatedly proven in the past. After stepping down from White Rabbit Gaming a month ago due to health issues, she finds herself back in competition again. Hopefully her health and vision has improved to the point that she will be able to compete without as much discomfort this time around. She'll certainly bolster the Leetpro female team and possibly give them an edge against their usual nemesis, Bravado Finesse. This was the case the last time she played for the team in the WESG Qualifiers, where they beat then Energy Finesse to make it to the finals in China.
With the help of ShazZ Leetpro will be a tough team to beat for the other top local female teams. I'm not sure at this time whether she will be allowed to play in the Valkyrie league or not. As soon as we get clarity from Mettlestate, the article will be updated to reflect this. If she is allowed to play Valkyrie, she could very well be the difference maker that brings them the title. They plan to keep the current roster with ShazZ added, so no cuts have been made yet. This will probably mean a rotational system and could also accommodate ShazZ's medical condition.
The seasoned duo
There were a few theories floating around after the replacement of Jan "Takbok" Theron in Energy eSports with young gun Gareth "MisteM" Ries two weeks ago. Was he completely cut from the team or actually staying on as a substitute? Would he be joining another roster? The official press release said that Takbok would stay on as a reserve, whereas the Energy players seemed to indicate that he had been totally released in their comments on Twitter. That made it rather unclear as to whether he would indeed be moving elsewhere. After only two short weeks, we already have our answer.
Energy captain Robby "blackpoisoN" Da Loca cited a possible lack of motivation from Takbok and him struggling to adapt to certain scenarios in a TwitLonger post as reasons for his culling. Some players need fresh challenges to thrive and perhaps that is the case for Takbok as well. He'll certainly bring experience and a winning mindset to the team, having been so successful as part of Energy in the last year. He wasn't required to frag at the same level as the other players in Energy, but in Leetpro he will certainly need to step up in this regard if they want to challenge the top teams. I would say that he is a good counterbalance to the unbridled aggression of Aaron "Slowye" Van der Walt and Brad "BaNaNaZz" Altona. His more passive approach might be just what the team needs.
Jaun "Zeo" Nieuwoudt also joins simultaneously from White Rabbit Gaming. That lineup unfortunately failed to set the world alight and was relegated at the end of the last leg of VS Gaming's Masters division. ShazZ was also playing in the team at the time. Zeo brings with him a wealth of experience, having played in many successful local teams and been a member of the Energy side that traveled to Copenhagen Games in 2016. In previous years he found great success playing with his then usual partner in crime, Jean "kustoM" Herbst. While kustoM has found a measure of success after striking out on his own as a member of current top three team Big 5 Esports, Zeo has not been quite so lucky.
Zeo functioned as the in game leader (IGL) for White Rabbit Gaming and was attempting to build a new team to a competitive level. By all accounts, he was a good IGL, but for whatever reason the roster never quite fired. His usual monstrous individual performances also seemed to suffer under the burden of leadership. In LeetPro with Slowye calling, it could allow the space and freedom for Zeo to get back to the level of fragging power he is known for.
Lining up Leetpro CS:GO
Aaron "Slowye" Van der Walt
Brad "BaNaNaZz" Altona
Tiaan "Tiaantjie " Rheeder
Jaun "Zeo" Nieuwoudt
Jan "Takbok" Theron
There have been a number of recent changes to the roster with the likes of Crankz, Vinny, God.Complex, and Narf either moving to reserves or swapping teams entirely.
Forward. March!
The team were promoted to VS Gaming's Masters division for Leg 2 and looked to be on an upward trajectory. This may be the move they needed to accelerate that process. I'll certainly be watching with great interest to see how the team fares with the new additions.
Header image courtesy of Leetpro.