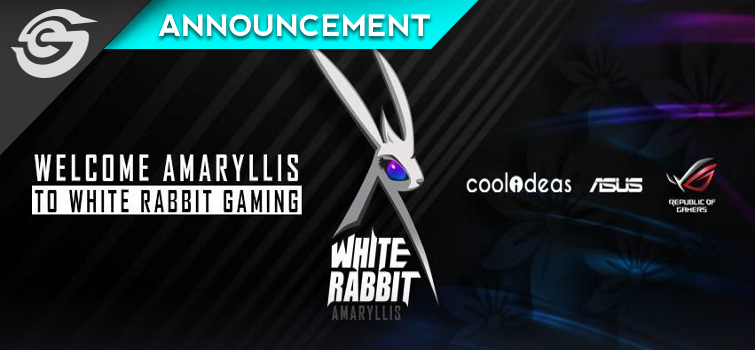 Amaryllis Gaming joins White Rabbit Gaming
Michael 'axtremes' Harmse
White Rabbit Gaming have just announced the addition of Amaryllis Gaming to the WRG fold. Amaryllis Gaming are a successful all-female multi gaming organization (MGO). They recently finished in a commendable third place in the Mettlestate ASUS ROG Valkyrie CS:GO league, behind winners Bravado Finesse and second-placed Leetpro. White Rabbit Gaming are not so much dipping a toe into the female CS:GO and esports scene, as diving in head first.
Talking to Brinker
In the aftermath of their third place exit at Valkyrie, I managed to speak with the founder and team captain of Amaryllis Gaming, Ashley "Brinker" Groves. Of course all the focus was on the impending WRG move.
ax: It must be pretty special starting a team and later being picked up by a big name organization like WRG. Talk us through how that happened and your feelings on it.
Brinker: It is truly great to be invited to join the WRG organisation. The one fan on my ASUS RX480 graphics card stopped working after one of the Valkyrie games. I reached out to ASUS to purchase a new one and was put in contact with Rhys "WookiE XXXL" Crossley, coach to the WRG Aspire team. He recognized my name and knew who I was. I took my card to ASUS to have it fixed and we got talking. Rhys mentioned that Alwyn (Venter of WRG) may be interested in picking up an all female team. He put us in contact with each other and now here we are!
What are the positives that WRG will bring to the team?
WRG brings so much experience and structure that I feel will help shape us into the champions we are ready to become. On a personal level, I have always wanted to become even more involved in the esports community but never quite knew how to give back. I feel that with the assistance of WRG and the guidance of Alwyn, I will finally be able to share my passion with others.
How much support from the org can the team expect? Will the main team, for instance, be offering some coaching or help?
WRG has already offered us so much. Yes, we will be pairing up against the other teams within the organisation for some training and coaching. They have all been so supportive towards us.
The most important question of all! Is the whole team now getting some sweet gear from ASUS? It must be amazing to have access to big name sponsors like this.
Haha! I think the players are all keen for that. However, having the support of such amazing sponsors was really just a bonus to me, rather than my primary focus. The main thing I was looking at was support for the ladies, especially the Dota 2 and Overwatch teams. It should come as no surprise to any of us that running an MGO is not an easy operation. I was struggling to manage the organisation while working, studying and being a mom.
Alwyn has given me balance, structure and support that I believe will assist greatly in improving the skill levels of all my ladies. Exposing them to some of the best lineups in their respective titles such as the WRG Masters CS:GO team, Boostios for Overwatch and Odu for Dota 2. I couldn't have asked for more to be honest. That being said, a branded hoodie to match the cap I won last year would be amazing! Haha.
Will this lineup be sticking together for the foreseeable future?
Who knows what the future holds, but for the time being yes. We are determined to remain together. Our team synergy improves the more time we play together.
What are your expectations for the rest of the VS season and the next season of Valkyrie?
We are hoping to have all our teams promoted out of the ladder division by the end of Leg Three for VS. For the next season of Valkyrie, who knows? We are going to push ourselves above and beyond to do our best.
Are there any shoutouts or thanks that you'd like to extend?
There are so many people who have influenced me and my competitive gaming career over the past three years so this could be a rather long list. I will shorten it to the key people. Firstly, I would like to thank Richard "deviaNt" Groves who, as everyone knows, is my brother. He motivated me to become competitive through his own amazing accomplishments in CS:GO. Then, I would like to thank Sam "TechGirl" Wright, Barry "Anthrax" Louzada as well as everyone in the Mettlestate team. Between Mettlestate and their sponsors, they gave us the chance to realize our own potential and gave us a space to improve. My team for being dedicated, win or lose, to improvement and never losing sight of our end goal.
Thank you to Alwyn, Martin and Wayne for welcoming us into their organisation. Thanks to the whole of WRG, ASUS and Cool Ideas. Also to Rhys for accepting the job as out coach. We can be quite a handful, so good luck! Haha. Lastly, and most importantly, my husband Juan. He has been so supportive and has been my rock through all these years. I truly appreciate everything that he is and has done.
Thanks for talking to us Ashley. All the best for Valkyrie Season Two!