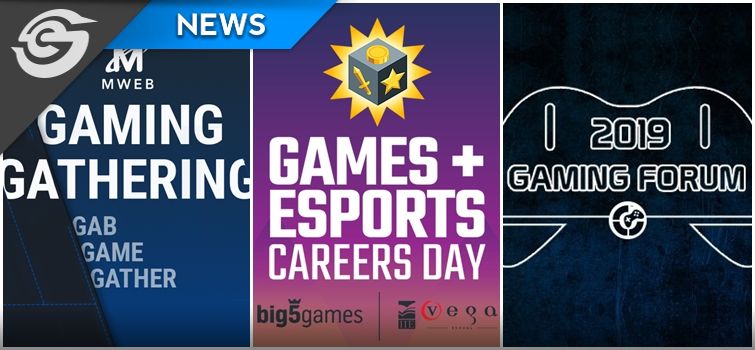 3 Events with Esports and Gaming Conversations
Clint 'Zombie Dredd' O'Shea
In the next month and a bit, South African gamers and esports enthusiasts will get an opportunity to engage with like-minded souls at three different events. That's right, just when it seems like these sort of things aren't happening, they all arrive at once. So if you're a gamer keen to socialise or an esports enthusiast wanted to find out more about the industry, these three upcoming events should be for you.
MWEB GAMING GATHERING
ACGL, MWEB, MSI Gaming and Debonairs Pizza will be giving Capetonians an opportunity to "gather, gab and game" on 22 February 2019. The event will be hosted at the MWEB offices in Cape Town. The R80 entry fee will see 50% going to Hospice, and attendees will be fed by Debonairs with energy drinks supplied by Reboost.
Expect swag, speakers (including  Grant Hinds, Gareth Woods and more) and the chance to get hands-on time with new games on the latest MSI hardware.
DETAILS
Date: Friday, 22 February 2019
Time: From 18h00
Where: MWEB, 100 Fairway Close, Golf Course, Cape Town
Cost: R80 per person | Buy Here | More Details
GAMES + ESPORTS CAREER DAY
Big 5 Games and Vega School will be hosting a career day on 23 February in Gauteng. Pippa Tshabalala, Samplayze, Ekasi Esports, Sam 'Tech Girl' Wright and more will feature on a variety of panels. The guests will chat about "how they built their careers in the games industry and where the next big opportunities are."
The career day is "aimed at students and others who wish to explore the games industry from a career perspective." The great thing is access to the event is free and only requires that you pre-book to avoid disappointment.
DETAILS
Date: Saturday, 23 February 2019
Time: 09h30 to 15h00
Where: Vega School, 444 Jan Smuts Avenue, Bordeaux, Randburg, Johannesburg
Cost: Free | Buy Here | More Details
GAMING FORUM
The 2019 Gaming Forum is the second edition of the event. As with 2018's iteration, the event is speaker and panel driven with attendees gaining access to Anthem, South African game Semblance, a Razer raffle and more.
Familiar names like Barry 'Anthrax' Louzada, Mike 'axtremes' Harmse, Sam 'Tech Girl' Wright, Pippa Tshabalala, Marco Cocomello and others will be on hand for the day. Entry is R295 with the first 100 attendees securing a goodie bag.
DETAILS
Date: Friday, 29 March 2019
Time: 10h00 to 17h00
Where: Wits Linder Auditorium, Johannesburg
Cost: R295 per person | Buy Here | More Details