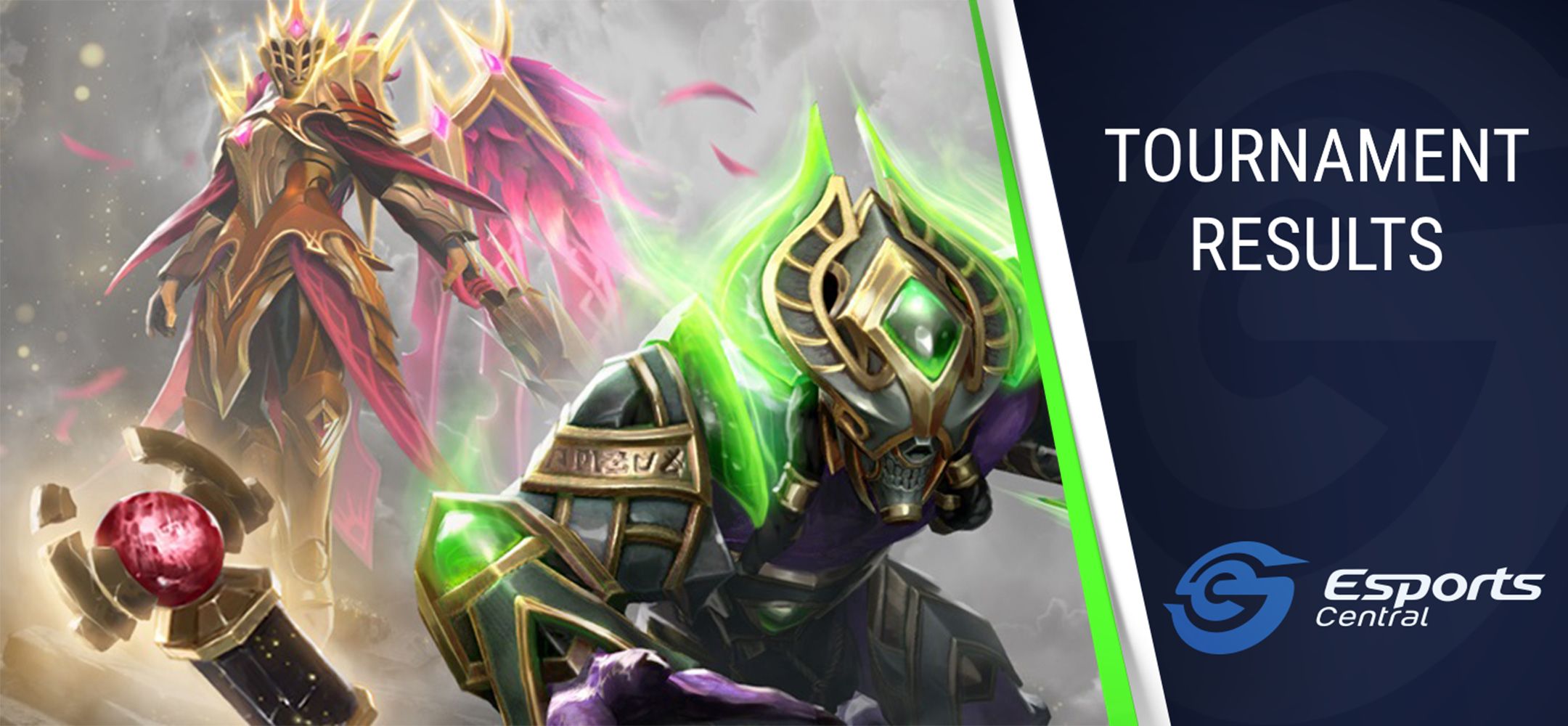 WePlay AniMajor Group Stage Day 4: End of the road
The finale of the Group Stage is now upon us.
One last day of Dota would cement once and for all the results, and tell us what kind of story we would have to tell about the teams in the AniMajor.
Regional showdown
In the opening series of the day, PSG.LGD took on Vici Gaming; a matchup which has become notorious amongst fans of Chinese Dota for PSG.LGD proving to be the Vici Gaming kryptonite.
With PSG.LGD already having secured top two, and Vici Gaming unlikely to join them (barring shock results later on), this game seemed to be an official scrim more than anything else.
Clearly experimental for both teams, strategies and item builds which would not normally find themselves into games of this level were pulled out.
From extreme minus armour strats from PSG.LGD, to hyper-farming items to counter a PL from Vici Gaming, the series was interesting to watch from the perspective of seeing teams play in real time with what works and what doesn't.
A game 1 victory for PSG.LGD secured them top spot in the group, however they were very impressively held to an impasse in game 2 with Vici defending their base and buying enough time for their heroes to become unkillable by the Phantom Lancer of "Ame".
Whilst "Ori" on his DK prevented the PL from being effective, "Poyoyo" Juggernaut isolated and reliably killed the "NothingToSay" Magnus which in turn made PSG.LGD unable to fight.
After 65 gruelling minutes, the GG was called and Vici took the game, although the impact of the game on their lives was muted on all sides.
Now or never!
The regional showdown made way to a showdown of hope!
The game between Team Spirit and TNC which would have major ramifications on both squads.
TNC simply needed one game to guarantee themselves Playoffs, erstwhile Team Spirit needed two game to guarantee the same.
Unfortunately for the Eastern Europeans their fate rested not only in their own hands, but in the hands of all four teams still to play. Thus failure to secure a 2-0 win would mean potential tiebreakers depending on the results to come.
Game 1 was an arduous affair to say the least.
Although TNC signalled their aggressive intent with the "Gabbi" Ursa and "Armel" Puck, Team Spirit were able to do a great job of stalling and buying time with the "Collapse" Underlord buying as many save items as possible, and "TorontoTokyo" Mars putting himself into every engagement.
"Yatoro" got a lot of farm on his Wraith King and the game seemed it could still turn in their favour, however at some point "Yatoro" decided to sell his Radiance to pick up the Abyssal Blade.
This decision would spell disaster as they now lacked DPS, but crucially lacked any evasion so Ursa now become more dangerous again.
Though the game would continue for another 15 minutes, this was the beginning of the end and TNC secured the game and a spot in the Playoffs.
Game 2, though, was a showcase of why mentality matters greatly in Dota2.
Despite drafting a line-up for almost perpetual team fighting, brawling and 5 hero dota, TNC were very clearly not mentally in the game anymore.
From "Bok" on his Venomancer reliably using his ultimate in bad positions in the fight, to "Gabbi" seeming to play the Dragon Knight more like an offlaner instead of his teams' frontline man, to "Armel" getting picked off on his Lina several times far away from his team in no-man's land.
Ultimately though, your opponent can make a myriad of mistakes but it's your responsibility to exploit those gaps which Team Spirit did very well.
"Miposhka" in particular on his Lion proved to be the TNC undoing, as he was reliable catching heroes out to prevent them from using BKB's or any defensive items. More than once this game was he able to find multiple hero earth spikes to set up for further team fight damage from Phoenix or Magnus.
The efforts of the Spirit captain bought them another win, which gave them the 6th spot in the group for now.
However, now they would be relying on Liquid for their shot.
If Liquid were to grab a single win in the later series, tiebreakers would be forced, if they won outright, Spirit would be eliminated.
With their minds still in the game, they could not afford to rest.
Fun's over
Beastcoast drew Team Nigma for their final contest and it could not be a more difficult competitor.
Given their performance thus far, Beastcoast needed a 2-0 win to force Tiebreakers and stay in the tournament.
Regrettably for Beastcoast, they were matched up horribly as the style of Nigma's play is almost the complete antithesis of what Beastcoast do to win.
With Nigma drafting heroes almost guaranteed to win their lanes, they turned that early advantage into a vicelike grip on the map, choking out any and all methods of farm for Beastcoast.
With "K1" finding himself bottom of the cores in terms of net worth on his Juggernaut for most of the game, they simply lacked the needed damage to force back Team Nigma; and fight after fight indicated this game would have only one conclusion.
After two fights which cost them everything without being able to take a single kill, Beastcoast called GG on the game, and also on their run in the WePlay AniMajor!
Although now forced to sit on the side-lines, there is still a world where Beastcoast qualifies directly for The International (TI) and avoid the deadly qualifiers.
Tied with 6 other teams on 800 DPC points, yet again their fate lies not in their own hands, but in the performances of the teams around them.
Suma1L vs EG
The final match of the day, barring tiebreakers, would find Team Liquid facing off against EG.
It is no exaggeration to say that EG, having already made the Playoffs and qualified for TI, did not need this game at all. Meanwhile for Liquid they needed to claw back one game to force tiebreakers with Team Spirt, and two games would mean leapfrogging them instead.
This match was also notable for being the first time in his career that "Suma1L" had taken on the former squad of EG in a match.
Evil Geniuses showed that they live up to the name by ensuring that they banned the "Suma1L" Templar Assassin first on both games. Denying Team Liquid their most potent weapon and giving themselves a hyper aggressive Razor/Batrider draft to allow them to fight almost perpetually whilst keeping Liquid off kilter.
Game 1 breezed past with EG easily securing the game.
Game 2 brought a surprise along with "Suma1L" going for the Invoker pick to help them with the win, putting the damage and carry responsibility back on "Micke" playing Luna this game.
With the focus of the 4 protect 1 pivoting to "Micke", "Suma1L" had a lot more freedom to move around the map and be involved in skirmishes whilst Luna was farming. This not only allowed him to get farm off of heroes, but enabled "Micke" to have his best Major performance yet!
With the constant fights allowing Luna to get incredibly far ahead on farm whilst his team brawled, he could involve himself with a 26 minute Satanic, Butterfly, SNY combo making him all but unkillable.
The 33-minute GG call gave the victory they needed to force tiebreakers with Team Spirit. So, for them, victory came with no celebration as they needed to test their mettle one final time.
The end of the road
Now leading into the final match of the Group Stages.
A Bo1 Tiebreaker that would determine which of the 2 sides would advance and who would have to start preparing themselves for the upcoming TI Qualifiers.
Buoyed by their success against EG, Team Liquid were confident to pick almost exactly the same line-up; only replacing their Treant Protector with Enchantress and Dragon Knight with Centaur.
The replacement heroes were meant to occupy the same roles as in the previous strategy, and thus force out another quick win for them.
The strategy seemed to be paying off with game two giving a distinct sense of Déjà vu, as Liquid began setting up for a monstrous Luna game by securing her lane early and creating a dense amount of early jungle stacks for "Micke" to farm.
With Team Spirit having drafted the "Yatoro" Drow Ranger as their carry, it seemed like only a matter of time before Liquid would roll them into the GG, as they continued to encroach onto the Team Spirit Side of the map.
However, one should never forget the name of the team.
Team Spirit repelled a high ground push with the "Collapse" Tidehunter finding a crucial ravage on Luna and Invoker after being setup by the "Miposhka" Lion.
Then the game began to turn.
After this failed push, Team Liquid would not be able to find another kill on the map again as "Miposhka" was always there with a counterplay.
No matter what was tried by Team Liquid, "Miposhka" was ready. From finding out that he laid pre-emptive sentries to immediately deward Team Liquid, to in the trees within range of his cores so he could counter-initiate if needed, the Team Spirit captain stepped up in a huge way.
With his leadership, and with Team Liquid's discipline falling apart as their frustration mounted, Team Spirit were able to grind it back into their favour and ultimately force out a victory for themselves, culminating in a massive team wipe to round out the game!
Team Spirit eliminate Liquid, and keep their story alive at the AniMajor, reigniting hope of directly qualifying for TI!
Time to catch your breath!
With a day off to contemplate the games they played, the teams will come back fresh and ready for more action once the tournament resumes and the Playoffs begin!
Six teams qualified directly for the Playoffs, and they will finally have their chance to show their mettle and compete for first place as well as TI Qualification.
The action kicks off again on Wednesday the 9th  of June at 11:00 CEST on the WePlay Twitch Channel.