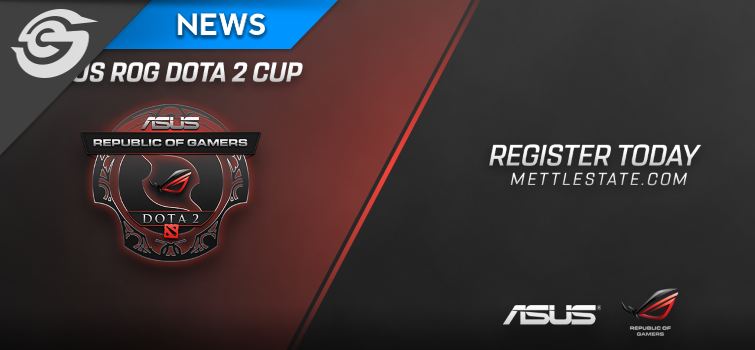 Mettlestate ASUS Rog Dota 2 Cup Qualifiers Preview
Chris 'Sargon' House
The Mettlestate ASUS ROG Dota 2 Cup qualifiers kick off this week, where 33 teams will compete in Best-of-One matches in an attempt to secure 16 spots for the competition proper. The matches take place from 19h00 and 20h00 on Wednesday 13 June, but won't be streamed. Mettlestate have acquired an official ticket for this tournament, so you should be able to spectate matches via the Dota 2 client. Although it's not clear if this will be available for the qualifier rounds.
Round 1 @19h00:
Round 2 @20h00:
Leetpro vs WINNERS OF ROUND 1 MATCH
Pension Park vs Tango for Mid
SALT vs RE ACC_Howl
Nibble Horde vs Fear
Sinister5 vs ParadoX
Omnius Gaming vs Washed up Dota
Exdee Gaming vs Band of Brothers
Evolution Esports vs Inexorable Chronos
White Rabbit Gaming vs Origin E-Sports
The Nobodies vs Veni Vidi Vici
Retrokill vs Villianz
Leetpro Senpais vs Vexx Esports
Goliath Gaming vs Clout Gaming Reborn
Clan Bacon vs Burrowed Entities
Epoch Esports vs Dotes Melotes
Spartan esports vs Inexorable Sins
Once these two rounds have been played the top 16 teams will be confirmed, and we expect the group stage to start around the 8th of July. There are no real epic clashes here, as most of the top teams in South Africa will have an easy time making it through to the top 16. Good luck to all the teams!
*Update 15 June 2018
The confirmed top 16 teams that will participate in the Mettlestate ASUS ROG Dota 2 Cup are:
Clan Bacon
Epoch Esports
Evolution Esports
eXdee Gaming
Goliath Gaming
LeetPro Dota 2
Leetpro Senpais
Horde
Pension Park
RetroKill – 5Mongotards
SALT
Sinister 5
Spartan Esports
The Nobodies
Wash up Dota 2 Players
White Rabbit Gaming