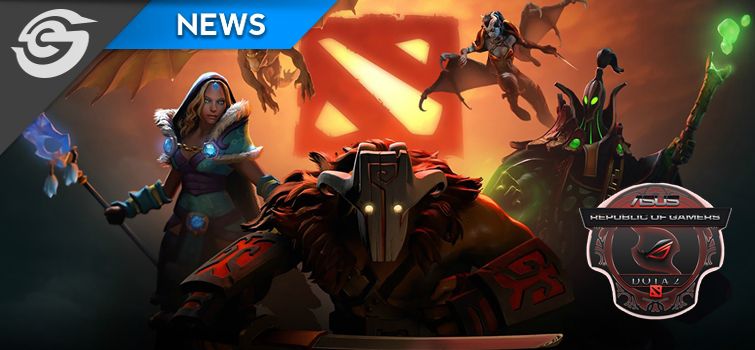 ASUS ROG Dota 2 Cup Playoffs this weekend
Clint 'Zombie Dredd' O'Shea
This weekend sees the R55,000 ASUS ROG Dota 2 Cup hosted by Mettlestate come to an end. Four teams remain standing in the double elimination playoff scheduled over two days.
Goliath Gaming, Leetpro Esports, Sinister 5 and White Rabbit Gaming represent the top four teams in the competition with Goliath Gaming and Sinister 5 kicking off the action at 10am on Saturday 25 August 2018. White Rabbit Gaming and Leetpro follow at 1pm with the final match of day one scheduled for 4pm with the two losers facing off against each other.
The matches are back from 10am on Sunday 26 August 2018 with the top three. All matches will be best of three, except the grand final which will be a best of five.
All the action will be streamed live on the Mettlestate Twitch channel.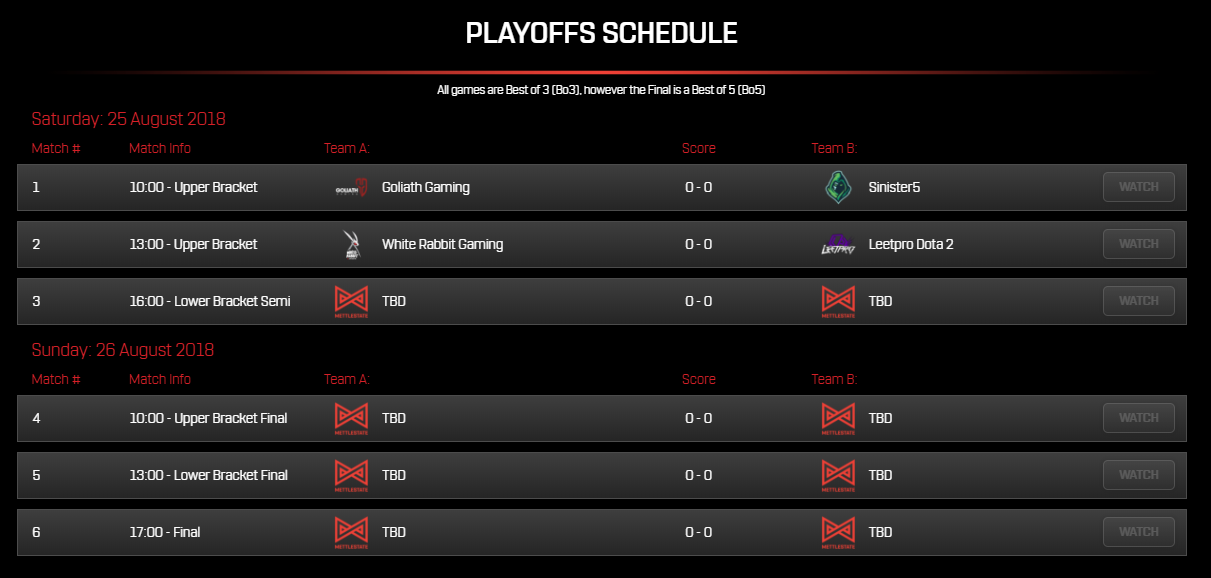 The prize pool for the top three is split as follows:
1st Place: R30,000.00
2nd Place: R17,500.00
3rd Place: R 7,500.00
Q&A with Stickalish
Chris "Sargon" House asked Goliath Gaming's Michele "Stickalish" Brondani a few questions about this weekend and the remainder of the Dota 2 season.
How long have you been a part of the Goliath Gaming Dota 2?
   Since GG started – June 2017.
What is your position in the team – and the roles of the other players?
   I currently play position 6 support. Mental is our current drafter, although we all share thoughts and opinions during the draft (but ultimately, Mental makes the final call). We all share the in-game calling role based on different timings and points in the game; where the supports make the early game calls, and the cores mid to late game when they come online.
Before the Ballistix LAN, Goliath Gaming were generally considered a top 4/5 team. Yet GG surprised everyone in that LAN. First off, why do YOU think your team weren't considered favorites? 
   With us having new additions to the team, and us changing up our roles, it took us a little time to settle into that groove. All good things take time, and it's good to see the results are starting to show 🙂
Following up on the last question, what has changed in the team? Why are you guys so much more competitive this year? What do you attribute to this meteoric rise? 
   Communication and synergy (both in-game and beyond the game) amongst players is an incredibly valuable thing, and so we have focused heavily on these elements – which is starting to show. Every single player in GG has been putting in a lot of time and effort into their own game, each with a like-minded goal of being the best in the country. I'm really proud of each and every one of them and can't wait to see what the gents bring to Comic Con!
Let's focus on Mettlestate now. You recently beat Leetpro in an online Bo1, coming back from a really rough start to win the match. How did you guys manage the comeback?
   We trusted ourselves and our draft enough to know that once we reached a certain point in the game, we would be able to claim the lead.
What do you think about the state of your three opposing teams right now?
   All three of these teams are really strong, and rightfully deserving of being ranked as top teams in SA.
Do you think Goliath Gaming are the favorites going into the finals this weekend?
   For a very long time we've been seen as the underdogs, but have been putting in the time and effort to up our game. We've surprised everyone up until now, and we intend on doing it again 🙂
What are some of the biggest weaknesses you think Goliath Gaming has right now? 
   Our biggest weakness is probably the fact that BroodMother can get banned. 😉
A key focus for us (always) is to ensure our communication is clear and there is a good vibe within the team.
Any teams/players you're particularly worried about, going into the weekend?
   Any team that has made it this far in the competition is worth worrying about – we aren't singling out any one team in particular.
Who is going to win TI8?
   EG.
Who is going to win the Comic Con Africa Masters LAN? 
   It's really anyone's game, hey. From GG's side, we're going in with eyes on the prize and hoping to come out on top.