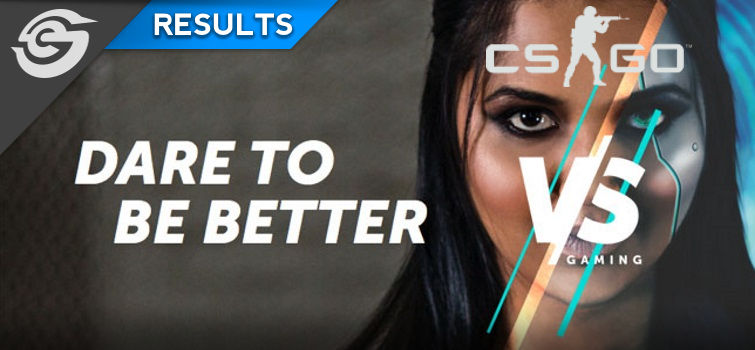 VS Gaming CS:GO Masters Leg 4 Wrap-up
Shaun 'Profeci' Murrell
With Comic Con Africa (CCA) now around the corner the time has come and gone for the CS:GO Masters teams to have booked their spots at the event. Leg 4 showcased more of the same in terms of the team's standings from the last 3 legs, while still giving us some interesting developments going into the finals at CCA.
The more things change…
Goliath Gaming dropped down to sixth this leg. The second best team in the country by results continues to look lacklustre online by their standards. They have had a roster issue with Stefan "Nef" Smit this leg, and his removal meant a lot of changes to the structure needed to be made. If anything the roster will be stronger by mid September with the addition of veteran Riaan "stYle" Van Niekerk adding experience and consistency to the squad.
It also must be mentioned that a forfeit loss dropped them to within danger of relegation at one point. However, they blew out Big 5 Esports in a fairly one sided series to end the leg in safety. The low seed from their sixth spot on the log could come back to bite them at the finals with a potentially tough bracket ahead. Still, Goliath Gaming in an offline environment is a prospect few want to face any time soon.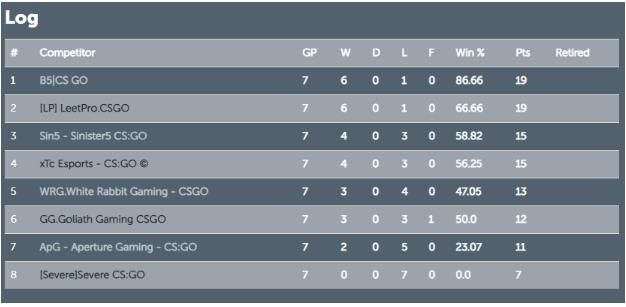 Sinister5 ended in third spot but one can't help but wonder how they would have fared with James "Zer0chance" Wijnberg at the helm for the whole leg. With their captain and in game leader out on holiday the team struggled a bit towards the end of the leg. They are on the up and should not be underestimated, particularly with an early matchup against Goliath Gaming at CCA probable.
Leetpro Esports took a much more solid looking second place this leg than they did in Leg 3 winning six out of seven, including a victory over Goliath Gaming. With their current trajectory they are shaping up as a potential member of the top three teams in South Africa. They've looked to the awping prowess of Aaron "Slowye" Van der Walt to carry them most of the way, with the rest of the team also looking good at turns. Still, the lack of a consistent second star player could be a problem against Goliath Gaming and Big5 Esports at CCA. Leetpro Esports remains the unfinished article for now until they solve their issues and remain a dark horse rather than a favourite going into CCA.
… The more they stay the same
Big 5 Esports, for the third leg in a row, take top spot. This assures them the best seed at the finals. They've looked solid and consistent, if a little unspectacular, in winning just about every game, which in itself deserves praise. Big 5 Esports are a very well rounded team, without any one player leaping off the page. It might this very fact that eventually catches up to them when they finally play Goliath Gaming. Their single loss in the leg to Goliath Gaming is now the second convincing defeat to the boys in red and black after they were bundled out at Rush. The matchup will be a worry on their minds when they next meet.
xTc Esports grabbed the fourth spot and mid table seems to be their lot at the moment. They've done well in ESEA, finishing second in league play there, but one can't help but feel the team has gotten the most out of its players and needs a shakeup. Whether that is a new voice or new player is difficult to say, but relying so much on Rikus "ZipZipZA" Klue as both IGL and star player might be taking its toll. The rest of the team needs to stand up and be counted more often if xTc Esports is to make it deep at the finals.
White Rabbit Gaming's fifth place seems about par for the course. They look dangerous for an upset against most teams but aren't able to follow through on their threat. Lineup changes have been hinted at on social media so it's unknown if this is the team we'll see in four weeks time but look to this team for a surprise or two if they can get it together.
The bottom of the pack
Severe lost every game and, while they have shown some fight against the bigger teams they weren't able to make it count. The inability to field Herman "Sol" le Roux will have played a factor but even that would likely not been the cure to all their ills. They lost out in relegation to Energy Academy, who will take their spot at CCA, and in next year's Masters Leg 1.
Aperture Gaming ended the leg in seventh, but with the lineup disbanding they are no longer a consideration. With the team in turmoil throughout the leg it is difficult to know exactly how much effort was devoted to the game itself. Nelson "Kasparov" Camargo and Cahil "Schizzy" Henry-Leyte have apparently retired and that, in itself, speaks to a lack of emotional investment. (kasparov has subsequently declared free agency instead, while schizzy is unconfirmed). They looked spectacular and average in the same matches at times and would have been a dangerous customer at CCA. Their spot has been taken by eXDee Gaming for CCA and VS Gaming Masters 2019 Leg 1. 
Comic Con Africa next?
The sun has set on the VS Gaming Masters online legs this year. The Finals at CCA are just over a month away, and there is still a tonne to play for. Offline play will ultimately decide who lifts the trophy in September 2018, and set the tone for CS:GO going into 2019.