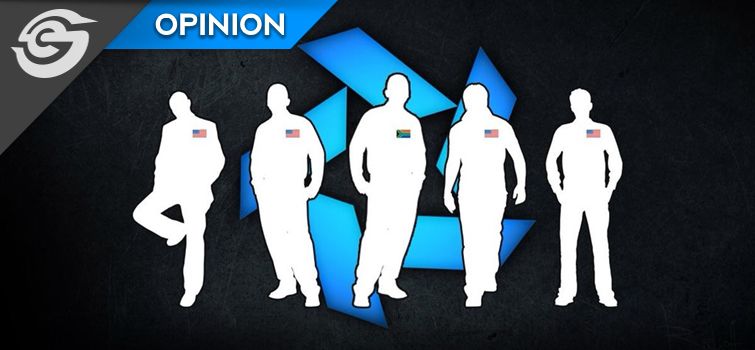 Reviewing the Bravado Gaming, Denial, and Energy eSports CS:GO roster changes
Matthew 'HAzE' Stott
Over the past few weeks there has been some major news around South African CS:GO. From roster changes to retirements I've written this piece to take you through how we arrived here, what it all means and to tie everything together to try get an early idea of what we can expect.
Where it all began
Going back to the start of January, Bravado Gaming announced they'd run out of resources to maintain the team in America. They decided to make a plea to the community to assist in keeping their dream alive by contributing to their Indiegogo campaign which had a targeted total of $30 000. This money would be used to keep the Bravado team in the USA for another three months. During the time Bravado management would seek further sponsorship and hopefully accomplish that before the end of the three month period.
The campaign caught tons of attention around the world. Some of the top figures in CS:GO like FalleN and apEX went as far as streaming and donating all their proceeds to Bravado's cause. Of course this would be a cause close to FalleN's heart as he found himself in a similar situation where Flusha donated money to assist then-Kabum to attend the Major qualifier. Substantial amounts were amassed with the Brazilian raising around $4500. However all the efforts were in vain as one of the more unlikely scenarios occured. Bravado announced an abrupt end to their funding campaign and instead requested that no further donations be made. After some speculation it was revealed that the American organisation Denial swooped in and offered the then Bravado players a new home, one which probably had more certainty about it.
New horizons
This is a big deal, an international organisation is now housing a full South African team abroad giving them the opportunity to compete at the highest level. This will further the exposure of our scene and continue to put us on the map while giving these individuals a platform to perform and achieve some great things. It's a benchmark which serves as indication to the inroads they've made over the past 18 months.
Although in the end it was only a quartet of players and the coach T.C who transferred with Detrony opting to stay with the Bravado organisation instead. This meant that the players were now faced with finding a new 5th, a process they'd have been somewhat unfamiliar with considering they were the longest standing CS:GO roster in the world out of the top 50 teams.

The addition of Domsterr and blackpoisoN
After using some standins like ptr and smooya for their IEM Sydney qualifier it didn't take long to announce their potential 5th. It came as little surprise to the South African scene when it was revealed through a statement from Energy Esports about the future of their main CS:GO team that Domsterr would be making the move abroad to trial for Denial. He's been absolutely exceptional since 2016 climbing his way to the top of the local scene and now earning a crack at an international opportunity, incredibly well deserved at that. The trial culminates with WESG 2019.
Though this wasn't the end of the abruptions. Soon after the news about Domsterr, Elusive announced his retirement from competitive gaming. Citing his studies which he has a limited time to complete, something he has to do in the next two years he decided to call time. Leaving or at least taking a break was inevitable but he didn't want his team to go through the rebuilding process a year down the line from now. A man who's journey came to an end after he had been a part of the Bravado organisation for well over two years and the South African scene for 13. He achieved some major successes throughout, most notably the 2nd place at DreamHack Winter Stockholm.
This paved the way for South Africa's most well known player, blackpoisoN, to join the team in America. He'll have some familiar faces in the house with his ex-Energy Esports partner Domsterr and Sonic who he played with in Bravado Gaming a few years back. The addition of blackpoisoN is integral, there's certainly no better choice in the South African market as he brings a wealth of experience along with a top skillset. He also finds himself on trial which, like Domsterr's, ends after WESG in March.
Where ex-Bravado won and lost with the roster changes
Where they lost with Detrony and Elusive going their separate ways; The combined experience from these two players is exceptionally high, things like helping the team deal with specific circumstances or high pressure situations are very important. It'll  be a notable void initially but having said that, all five players in the team are reaching that point of significant experience. Perhaps in the past JT and Fadey may have been identified as being further behind than their previous peers but after playing as much CS as they have in the past 18 months that gap has been somewhat bridged. Even Domsterr was considered a part of the leadership group in Energy so he'll be able to ensure they're sufficiently rounded out in that department.
Where Denial won with Detrony and Elusive going their separate ways: There's been an injection of highly skilled players with Domsterr and blackpoisoN joining the ranks. Without taking anything away from the departing players ability, cause really you can't question it with their track record, there's also no denying Denial have had an increase in fragging power. Domsterr is considered rock solid for a reason and has an incredible multi-fragging ability and holding down bomb sites by himself while blackpoisoN brings some insane clutch-ability, top class AWPing and has solid BMT. .
Expectations
It's fair to have high expectations for this new team. In my mind it's the strongest group South Africa can produce, but don't kid yourself, we have seen players like STYKO and TACO receive increased recognition for the roles they play for a good reason. Someone in the Denial squad is going to have to step up to do the dirty work, a job which isn't any of their natural game. They have no shortage of ability with some incredibly high fragging power and if they can make these ingredients work long-term I think there's some fantastic times ahead.
Some questions are still unanswered like whether will JT continue to be the IGL, who will fulfill their support duties and who will be the primary AWPer? Time will tell, something they have a fair amount of. WESG starts on the 3rd of March however they have already began their ESEA MDL season having played 3 games to date and won all 3 comfortably.
The future for Detrony and Elusive
Elusive will pursue his Engineering degree back in South Africa which he has one year left to complete. It appears Detrony will remain involved in esports, in fact he may even remain in the USA continuing the Bravado legacy abroad albeit with a completely different flavour. Bravado released a teaser on Twitter where they have one South African flag and four American flags representing the makeup of the future lineup. Could be an interesting match-up should Bravado go up against Denial.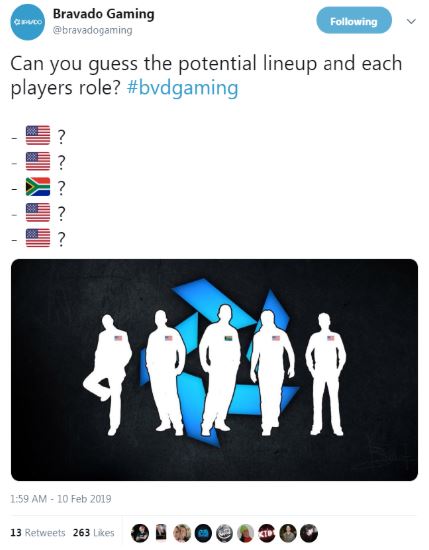 In a way it's a fairly happy ending for the ex-Bravado guys I suppose. What brought about the end wasn't a slump in form or differences between the players in the game. It was logistical reasons that the story came to an end, a story which we'll look back on as a pioneering expedition that put South African Esports on the global map. As they say though, when one door closes another door opens and my goodness am I excited to see what the next chapter holds.