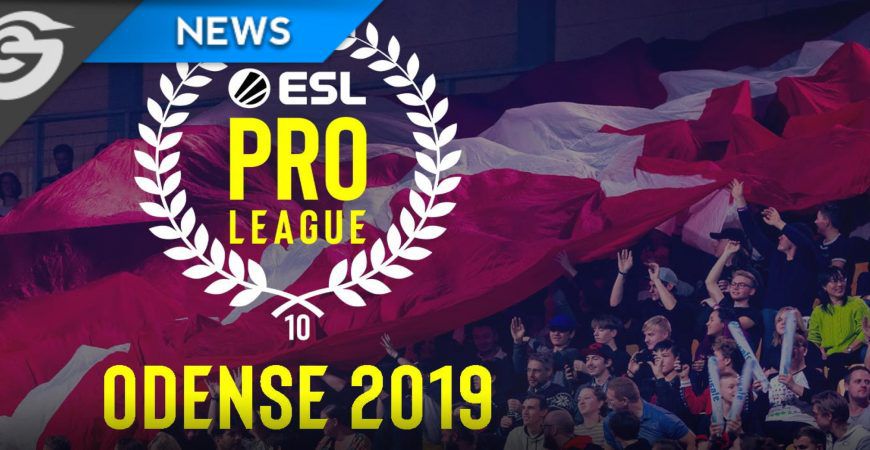 ATK ESL Pro League Season 10 CS:GO Results
ATK will be leaving Odense with a very different public perception than with which they arrived. They took part in the illustrious ESL Pro League Season 10 over the weekend, where they upset top opposition in North and G2. 
It was a fairy-tale of sorts for the South African organisation. Just over three months ago they had narrowly missed out on qualification for the Pro League when they lost to Envy in the final. Their fortunes took a turn for the better though, both Luminosity and Ghost, two of the teams in ESL Pro League, had disbanded. 
This meant there was now two vacancies that needed to be filled, and ATK were one of the teams afforded the opportunity. They were next in line as they made it to the final during the promotion/relegation. One of the main goals when the original Bravado squad set out to The States was to qualify for ESL Pro League, a goal that was finally realized. Albeit with a vastly different roster, JT, Sonic, and TC made it happen. 

The Road To The Finals 
ATK were a part of a rough group in round one, finding themselves alongside Liquid, 100Thieves and Singularity. They lost out to the two former teams as expected but managed to best Singularity which secured them a last shot at qualifying for the LAN finals.
Round 2 coupled them with Envy, Detona and Singularity. ATK were fortunate to dodge the Juggernaut as they were ineligible due to their roster changes. Considering their opposition, it was clear from the outset that the prospect of ATK qualifying for the LAN finals was a very realistic one. 
They managed to do exactly that by beating both Envy and Singularity 2-0. It was a fantastic achievement for the young squad, giving them the opportunity to show the world what they're capable of, which they did in style.
The LAN Leg
The ESL Pro League Season 10 finals were hosted in Odense, Denmark over the 3rd-8th of December. The competition comprised of the best teams, with ten of the top 15 teams in the world present.
ATK's opening match was against mousesports. Recently there was a cloud of doubt over the mousesports team, with some people suggesting that they were growing stagnant. However, mousesports did a decent job dispelling that narrative by winning the CS:GO Asia Championships 2019, beating Evil Geniuses 2-0 in the process. 
Winning CAC 2019 put mousesports in a positive mental space, meaning they would have been feeling good heading into the event. There would have been some hope of an upset from the ATK team, considering it was a best of one, but it was always going to be a difficult match.
Game One: mousesports
Indeed it was a difficult match. The map was Nuke, which has actually grown into a strength for this ATK team, with them sporting a 67% winrate on the map heading into the event. ATK got off to a great start on the CT side, going up 7-1 in the first half but it was a short-lived success with mousesports still managing an 8-7 halftime scoreline. 
Mousesports continued to boss the affair with ATK only picking a further two rounds throughout the map. It was actually the IGL of mousesports that was doing most of the damage. karrigan managed to get 22 kills with an ADR of 112.4 by the end of the game. As a result, ATK were dropped to the lower bracket where they would play against the loser of Liquid vs North. 
Game Two: North
Unsurprisingly, their opponent turned out to be North. Ironically, if there's one place you want to play against one of the top Danish teams, it's in Denmark. Historically most Danish teams have really struggled to perform on home soil, which turned out to be true once again. 
In a best of three elimination match with it all to play for, ATK had to go in guns blazing to make a statement. North has a Major MVP on their team in Kjaerbye and some other iconic names like aizy and cajunb. Their big names didn't perturb ATK though, not even in the slightest. The maps were Overpass, Vertigo with Inferno as the decider. There was no decider required though, ATK ran riot and seemingly beat North with ease. 
Opening up on Overpass, a map that pretty much belongs to Danish teams, it was going to be a challenge for ATK. Having said that they play the map a fair amount too, so it's by no means unfamiliar territory. It was very even at halftime with the score 8-7 in ATK's favour. From there though it was one-way traffic, ATK cleaned up on the T side closing out the map 16-9. Sonic had a belter of a map, wracking 28 frags throughout. 
Heading into Vertigo, ATK would have had a wealth of momentum and confidence behind them. It was a blistering affair with a near anonymous North on the server. ATK managed a 12-3 halftime score and soon after closed out the map 16-8. Both motm and floppy were popping off, between the two of them they picked up 52 frags in 24 rounds. North had been eliminated from their home event without even winning a single map in the process. 
Game Three: G2 
In what may have been the biggest upset at the event, ATK beat G2 2-1 after being down and out. The French outfit with Serbian flavours have been looking really good lately, hitting the ground running with their new roster. In fact a day before their match against ATK, they were on the cusp of beating Astralis 2-0. Had that been the case, ATK would have had to play Astralis in the elimination match instead…bullet dodged. 
It all began on Vertigo, again ATK's pick. G2 blew them out of the water winning 16-4, after a successful 11-4 T side. Moving on to Train, most had written off ATK, and if they hadn't yet at this stage, they certainly had by half time. G2 were up 10-5 heading into the CT half, setting themselves up for a clean 2-0.
It turned out to be anything but clean. ATK picked up eight consecutive rounds, putting them ahead for the first time in the series at 13-12. ATK were abrasive in their approach, giving G2 no time to settle. G2 couldn't contain the aggression and before long ATK won the map 16-13, keeping their tournament aspirations alive. 
Game Three: G2 on Inferno
Heading into Inferno it was obvious that G2 had been substantially affected from a mental standpoint. ATK began proceedings on the T side and they wasted no time. They won ten consecutive rounds ending up with a 10-5 scoreline. The pistol round in the second half was the only round ATK would go on to lose, winning the following six and closing out the map 16-6. 
It was a phenomenal performance by ATK, who had received huge amounts of support from all corners. Beating this G2 team, at the ESL Pro League finals, in an elimination match, must go down as the greatest victory ever achieved by South African players. 
Game Four: The rematch against mousesports
ATK had earned themselves a rematch against mousesports. The winner of the match advanced to the quarter-finals, at the Jyske Bank Arena. Off the back of their two wins against North and G2 I think ATK would have had the self belief that they could win the match. 
Unfortunately once against mousesports proved far to fierce. ATK went with the Vertigo pick again but weren't able to produce the same venom we saw against North. They lost the map 5-16 against a very well oiled mouz. Heading into Dust_2 it was do-or-die for ATK. 
ATK managed to muster up a bit of a resistance on the CT side, picking up six rounds in the first half. That would be all they could put up however, with mouz dominating the second half winning seven consecutive rounds and closing out the match 2-0. 
To think that ATK were a mere victory away from partaking in the playoffs of one of the biggest events of the year is astounding. Not only that, mousesports were in the form of their lives at the event. They went on to eliminate Evil Geniuses, Astralis and fnatic in the process of securing their title as champions of ESL Pro League Season 10. If there's any team you want to be eliminated by, it's the team that goes on to win the whole thing.
In the End 
Overall I think ATK outperformed most people's expectations. The team's motivation will be at an all time high and this result will affirm their self belief. Like I said, ATK will be perceived very differently going forward, which has positive and negative impacts.
The negative would be the fact that other teams will be taking more notice of them and preparing more vigorously for their encounters. No more flying under the radar and catching opponents off guard. The positive is that they're now on the map, and will hopefully receive more invites either directly to events or qualifiers for the events. 
This team is on an upward trajectory and they have an insane amount of potential. There's some down time now heading into the end of the year but come 2020 this team could make some serious waves. Wish you boys the best for next year, the world is your oyster.