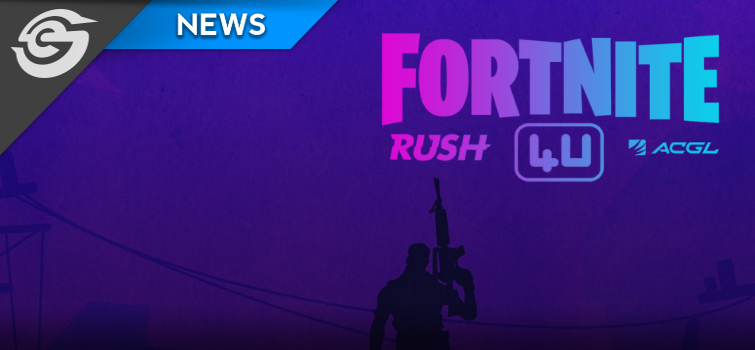 Talking mobile esports with Tech Girl
Michael 'axtremes' Harmse
Eds: Rush recently announced that their headline sponsor was going to be Vodacom 4U, and also announced mobile titles like Fortnite as being among some of the esports that would take place at the event. Notwithstanding the game mode chosen, there was a lot of discussion around the place of mobile games in South African esports. We asked axtremes to investigate.
Introduction
Many would argue that the PC platform is the true home of esports. Console players would argue for their box of choice in either the PlayStation 4 or Xbox One. Very few local esports fans would likely think of mobile gaming and esports as being the best marriage. Outside of our borders however, mobile esports is enjoying huge support amongst players and tournament providers alike.
Big online, but small in the hands
Yes, phones are rather smaller than PCs, that's for sure. With the massive leaps in mobile technology over the past few years, the processing power of phones has experienced a similar jump in performance. Mobile CPUs and mobile GPUs of the last generation or three are capable of running games as resource intensive as PlayerUnknown's Battlegrounds and Fortnite Battle Royale. The fact that PUBG runs better on mobile seemingly than on my GTX 1080 is somewhat galling and speaks a lot about both the developer optimization and power of phones. Both games seem destined to become major esports titles, with the full force of their enormous player bases and the financial might of their development houses behind them. Whether anyone likes it or not.
Mobile esports is a massive growth market. Partially because mobile gaming in general is huge worldwide and partially because there are games out there that have specifically targeted esports success. Titles like Vainglory and Clash Royale are pushing mobile esports forward with large tournaments and the buy-in of big name esports teams. In China there are widely popular titles like the Counter-Strike aping, CrossFire mobile. According to developer, Smilegate, it is the most popular FPS game in the world with over 8 million concurrent users and 650 million registered players. This is a game that has a PC and a mobile version, both of which have held esports events.
It's good to be Wright
Enter Sam Wright, AKA Tech Girl, who found herself working on the broadcast at the CrossFire Stars event in China in November last year. Who better to ask about mobile esports than someone who worked an event including both the PC and mobile versions of the same title?
ax: Hardcore Counter-Strike fans might look at the game with disdain, but I'd imagine the crowd and the players were taking it rather seriously. What was your impression of it?
Sam: It's the second biggest game in China behind League of Legends. They introduced, via TenCent, a mobile version of the game. CrossFire Stars was the big final for the PC game, but they also had a mobile competition there as well. The teams on the stage were getting a huge amount of support, so it clearly has a spectator base.
From watching a bit of the broadcast, I recall the mobile version was a little jarring to watch. It was also a little strange to see the players on stage in front of a massive crowd poking at their phones. How was it?
I found the mobile version a little more difficult to follow as a spectator than the PC game. I think I'm in the minority though, with the sheer amount of support it had. The crowd loved it. In a country like China they spend a lot of time commuting on trains. Mobile games make a lot of sense if it takes you an hour and half to get to work on public transport. It's the perfect thing to pass the time.
Do you think mobile esports has a place next to the premier PC and console esports in South Africa?
Mobile gaming has a place. There's definitely a lot of people playing these games and I do think there is a space for mobile gaming in SA. We constantly talk about the problems we have in SA esports. There is obviously a giant economic divide here. Most people can't afford gaming rigs. Consoles and consoles games are expensive. More people have access to smartphones. It's going to be attractive to players, definitely. If there's competitions for games that a lot of people already play and enjoy, along with a prize pool, it will draw entrants. If that translates to viewers, I'm not so sure.
I worked with some guys at Overwatch Contenders that have done a lot of casting for mobile games. They said there is a really strong and passionate group of people that watch those games. That's overseas and I don't know if that will translate to here. In SA, it should however be less about viewers and more about players. In mobile games, we'd probably get a bigger player base than some of the traditional esports. Ultimately a bigger player base would eventually lead to more people watching the content long-term. Mobile esports can work. We just need to find the right game.
Most mobile games with esports aspirations have online leaderboards or rankings and foster a competitive-minded player base. Those sorts of players would surely be interested in the esports aspect if given the chance to compete. They may even be interested in watching a broadcast.
In Conclusion
While traditionalists might baulk at mobile games making the transition to esports in South Africa, it's certainly coming. As has happened overseas, mobile esports will be invading our shores sooner or later. More people playing games competitively is always a good thing, even if it is on a phone and not a PC. It may even solve some of the affordability and accessibility issues that hamper our country's esports development. I'm sure we'll all be watching it unfold with great interest, especially with Fortnite on mobile booked at the upcoming Rush esports event.
Header image courtesy of ACGL.