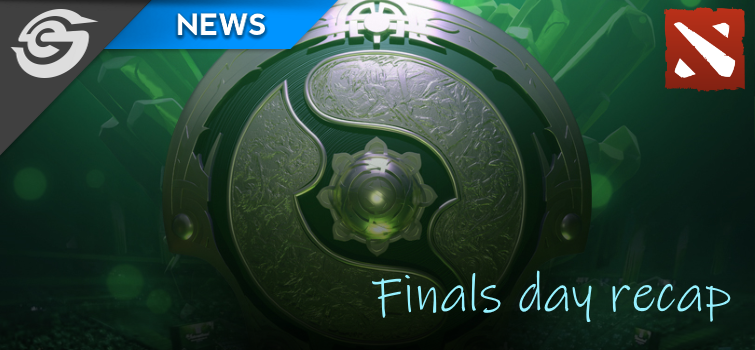 The International 8: Main Event Finals recap
Jay "NinjaBunny" Putzier
OG, EG, or PSG.LGD?
The day finally arrived, three teams remained with only one being able to earn the right to lift the Aegis of champions. With the winning team set to pocket a whopping $11.2m, there could be no room for errors. All three of the best Dota 2 teams knew what they needed to do. With OG having won the upper bracket final the previous day, they got to sit and watch as PSG.LGD and Evil Geniuses battled in the lower bracket final.
SumaiL was drafted onto his favoured Alchemist in game one, with LGD trying to stop him without an Ursa or Bloodseeker. LGD had the better of the laning phase, with strong performances in all three lanes. EG made some costly errors in their attempt to take control of the game, and were severely punished by LDG. There was a slight glimmer of hope for EG as they won a team fight on the back of Cr1t's Wisp. LGD bought back and turned the tides on EG, strangling them in their base and eventually forcing them to tap out.
LDG drafted themselves a Warlock and Luna onto xNova and Ame respectively in game two. EG decided to put SumaiL onto a Necrophos and Arteezy onto a Spectre. EG had the better of the laning stage and carried that into the mid-game, in the hopes that their Spec pick would finish LGD off in the late game. This was not to be as LDG took several strong teamfights that changed the direction and flow of the game. One last Roshan for LGD and they marched down and into EG's base, suffocating and squeezing whatever life EG still had out of them.
Conceding defeat and accepting their third place, EG bowed out of TI8 in third place.
Grand Final: Game one
The grand final would be a rematch of the upper bracket finals, where OG bested LGD in a series that LGD should have won. OG's massive 18k net worth comeback and their ability to hold off LGD when there seemed no chance they would gave them the series. This memory would still be fresh in the minds of the LGD players as the players stepped into the booths for game one. A strong opening two picks from OG saw them grab the Earthshaker and Spectre. LGD replied to this with an Enchantress and a Storm Spirit. The draft was rounded off with OG getting Winter Wyvern, Monkey King, and Treant Protector. LGD responded with Crystal Maiden, Elder Titan, and Bloodseeker.
LGD mixed up their lanes slightly and put the Enchantress up against the Monkey King in the middle lane. This seemed to have no real negative impact as all three cores in both lanes were able to farm at relative ease. As the laning phase went on both teams traded kills with each other. LGD took a slight advantage with Chalice picking up kills across the map on his Bloodseeker and Enchantress pressuring  OG's towers. 
OG pulled back with small fights and pick offs, but couldn't quite get the advantage they were looking for. This was until they picked the right fight and forced LGD onto the back foot. With it becoming apparent to OG that LGD were struggling to push into their line up, they pushed forward and tooka 1-0 lead in the best of five series.
Grand Final: Game two
LGD stepped back into their player booth looking to make amends from game one and avoid setting up a possible clean sweep for OG. LGD struck first blood on OG but paid for it with an instant reply from their opponents. As we settled down for the laning phase, we were treated to something we have not seen in recent months, a tri-lane versus tri-lane. LGD looked to pressure OG's stronger tri-lane and managed to do so when OG made a mistimed play and got punished.
Chalice on the Enchantress hit level six and proceeded to move around the map, scoring kills in every lane he ventured into. OG had no reply to his early rotations and succumbed to falling behind as we headed into the mid game. Finding pickoffs with Io and Gyrocopter was OG's mid game plan of recovery and way back into the game. Unfortunately every time they ended up in a full on team fight, LGD seemed to have their number. LGD kept their advantage and used it to pressure OG whenever they made a mistake, closing out the game and drawing the series level at 1-1.
Grand Final: Game three
LGD once again rode to victory off the back of its superior draft. LGD's ability to pressure the lanes was crucial to keeping ana and Topson from getting off to a good start. The combination of Alchemist and Brewmaster were perfect counters to deal with OG's Phantom Lancer and Morphling.
LGD knew all they had to do was but time for their Alchemist, and after a few evenly traded fights Somnus was on top of the networth. Staying out in front LGD kept pressuring OG and eventually found themselves inside their base and securing themselves a 2-1 lead in the final.
Grand Final: Game four
It was do or die for OG in game four, and "do" they did. They surprised LGD, and nearly everyone watching, with a last pick Axe for Ceb. This would turn out to be the thorn in LGD's spine as Ceb made play after play during the game. The mid lane had been crushed my LGD with Somnus reaching level seven on his Bloodseeker while Topson was still level four. OG fought back hard in the mid game, taking some well executed fights and pick offs, fronted by Ceb's Axe. LGD not wanting to please the section of fans chanting "Let's go OG" stifled OG's resurgence and kept themselves in the lead. Albeit by a rather slim margin.
OG's highground beckoned for LGD and they answered, taking two sets of rax and edging ever closer to becoming TI champions. LGD however had forgotten one thing it seemed, they forgot the resilience of OG. They forgot that OG were the kings of the comeback at this years TI and comeback they did.
They reset themselves and held off LGD from taking their dream away. Fighting back against the seemingly impossible odds they capitalized on every opportunity they found and ended up leveling the series 2-2. Leaving LGD in shock and pondering what they had to do to seal the grand final win.
Grand Final: Game five
One game left, one game to decide the winner of The International 8. LGD came out the gates at a fast pace, taking an early lead with Somnus's Kunkka leading the way. OG once again on the back foot, tried to make space and get back into the game. A team fight won here, a pick off there and OG found themselves back in the drivers set with ana playing possibly one of the best games in his career on Ember Spirit.
The pressure was getting to LGD and mistake after mistake saw them start to crumble in front of OG. OG forced themselves into LGD's base where they stuck an owners flag down and refused to leave. Using up all of LGD's buybacks and draining everything LGD had left to throw, the finally got the chinese powerhouse to accept defeat. An emotional OG stepped out of the booths and with tears and smiles on their faces lifted the Aegis of Champions. Cementing them as one of the greatest teams in Dota 2 history.