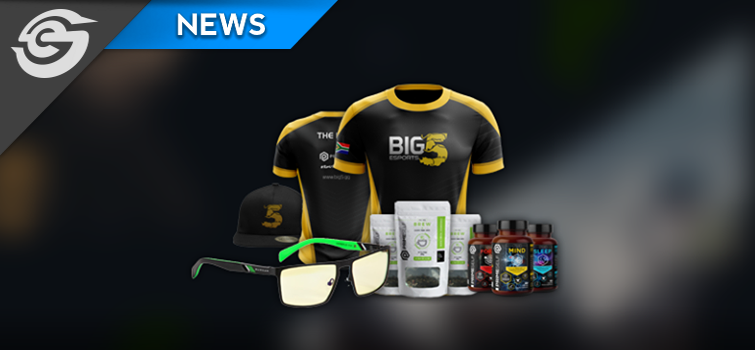 Big 5 Esports want to save the Rhino
[vc_row][vc_column width="2/3″ el_class="articlebody" css=".vc_custom_1523270772654{padding-top: 10px !important;padding-right: 10px !important;padding-left: 10px !important;}"][vc_single_image image="4567″ img_size="full" alignment="center" css=".vc_custom_1527155023635{margin-bottom: 0px !important;}"][vc_row_inner content_placement="middle" css=".vc_custom_1523350157423{margin-left: 20px !important;}" el_class="cat-tag"][vc_column_inner width="1/4″ css=".vc_custom_1523351002838{background-position: 0 0 !important;background-repeat: no-repeat !important;}" offset="vc_hidden-xs"][vc_custom_heading text="News" font_container="tag:h3|font_size:12|text_align:left|color:%23ffffff|line_height:1″ use_theme_fonts="yes" css=".vc_custom_1524480392987{margin-top: 0px !important;padding-top: 10px !important;padding-bottom: 10px !important;padding-left: 20px !important;background-image: url(https://esportscentral.co.za/wp-content/uploads/2018/04/Rectangle-26.png?id=2528) !important;background-position: center !important;background-repeat: no-repeat !important;background-size: cover !important;}"][/vc_column_inner][vc_column_inner width="1/4″][/vc_column_inner][vc_column_inner width="1/4″][/vc_column_inner][vc_column_inner width="1/4″][/vc_column_inner][/vc_row_inner][vc_custom_heading text="Big 5 Esports want to save the Rhino" font_container="tag:h2|font_size:28|text_align:left|color:%23ffffff" use_theme_fonts="yes" css=".vc_custom_1527155058748{margin-top: 0px !important;margin-bottom: 0px !important;padding-top: 20px !important;padding-bottom: 20px !important;padding-left: 20px !important;background-color: #262631 !important;}"][vc_custom_heading text="Clint 'Zombie Dredd' O'Shea" font_container="tag:p|font_size:13|text_align:left" use_theme_fonts="yes" css=".vc_custom_1527155078000{margin-top: 0px !important;padding-top: 10px !important;padding-right: 10px !important;padding-bottom: 10px !important;padding-left: 20px !important;background-color: #2a2b37 !important;}"][vc_separator color="custom" css=".vc_custom_1523350609771{margin-top: 0px !important;border-top-width: 0px !important;padding-top: 0px !important;}" accent_color="#3b455a"][vc_column_text css=".vc_custom_1527155510431{margin-top: 0px !important;padding-top: 20px !important;padding-left: 20px !important;}"]
Local multi-gaming organisation (MGO) Big 5 Esports has announced the launch of their new website. Maybe more importantly for some, they've also announced a donation drive for Rhinos and a giveaway.
Save the Rhino
Big 5 Esports plans to donate R5,000 to the Save the Rhino foundation, but with the assistance of you (and others like you), they would like to double it. A donation button will be added to their website in the coming week, along with a counter to keep tabs on the progress to R10,000.

You may also donate to the cause directly via the following link.
Win
To celebrate the website launch, Big 5 Esports is offering 5 hampers for the winners of their giveaway.
Each hamper comprises of:
1 x Gunnar Razer CERBERUS Onyx Green Amber Glasses
3 x Prime Focus
2 x Prime Brew
2 x Big 5 Esports Player Shirts
5 x Big 5 Esports Caps
Big 5 Esports – along with Goliath Gaming and Leetpro Esports – are looking for your vote for the Evetech Champions League show match. Details of the event and how to vote can be found here.
Header image via Big 5 Esports.
[/vc_column_text][/vc_column][vc_column width="1/3″ offset="vc_hidden-xs"][vc_basic_grid post_type="post" max_items="8″ style="load-more" show_filter="yes" element_width="12″ gap="10″ order="ASC" filter_style="dropdown" filter_default_title="Matches" filter_align="right" filter_color="blue" item="2271″ initial_loading_animation="none" grid_id="vc_gid:1527155489627-dad644c1-3999-6″ taxonomies="71, 84, 86, 88, 90, 92, 94, 110″ filter_source="category" el_class="results" css=".vc_custom_1524549333759{background-color: #30303d !important;}"][vc_custom_heading text="ALL MATCHES" font_container="tag:p|font_size:10|text_align:center|color:%23ffffff" use_theme_fonts="yes" css=".vc_custom_1523611106929{padding-top: 20px !important;padding-bottom: 5px !important;background-color: #30303d !important;}" link="url:https%3A%2F%2Fesportscentral.co.za%2Fall-matches%2F|||"][vc_empty_space][vc_basic_grid post_type="post" max_items="8″ style="load-more" show_filter="yes" element_width="12″ gap="10″ filter_style="dropdown" filter_default_title="Results" filter_align="right" filter_color="blue" item="2271″ initial_loading_animation="none" grid_id="vc_gid:1527155489630-8f0ebf54-6d8d-7″ taxonomies="76, 85, 87, 89, 91, 93, 95, 111″ filter_source="category" el_class="results" css=".vc_custom_1523718077456{background-color: #30303d !important;}"][vc_custom_heading text="ALL RESULTS" font_container="tag:p|font_size:10|text_align:center|color:%23ffffff" use_theme_fonts="yes" css=".vc_custom_1523611113209{padding-top: 20px !important;padding-bottom: 5px !important;background-color: #30303d !important;}" link="url:https%3A%2F%2Fesportscentral.co.za%2Fall-results%2F|||"][/vc_column][/vc_row]