Win a PC valued over R28,000 with ACGL Rivals
South African tournament organizer African Cyber Gaming League (ACGL) announced the return of ACGL Rivals earlier this month, a streamer event even bigger than last year's iteration, featuring Fall Guys. At the time of the announcement, ACGL did note that there would be awesome prizes for South Africans, even those who don't compete in the event. Now, ACGL has explained how you can stand a chance to win a gaming PC sponsored by PCBuilder and valued at over R28,000.
Win with ACGL Rivals
In the announcement, ACGL explains: "This prize – which includes an AMD-powered machine with 16GB of RAM and a GeForce RTX 3060 graphics card, as well as a FiFine mic – will go to one lucky entrant. A variety of giveaway entry mechanics will be used, with new opportunities to enter being revealed over the coming weeks. All entries will be added to a randomiser for selection."
So how exactly do you enter this awesome giveaway? Well, you need to head over to Computer Mania PCBuiler and build your dream gaming rig. Then, you must share a screengrab of your build on social media and mention @AfricanGaming (ACGL) + @PCBuilderZA, and use the hashtag #ACGLrivals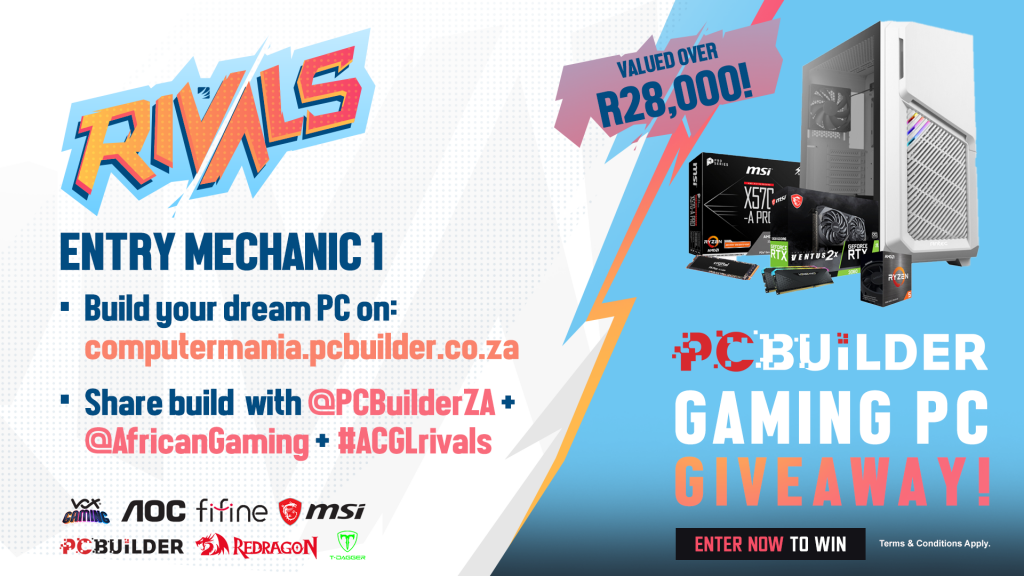 That's it, one entry has been secured following these easy steps. ACGL also notes that more entry options are to be revealed soon. You should keep an eye on their social media and the announcement article.
All entries to the PCBuilder giveaway will close at 15:00 on 9 August 2022, with the winner announced on 10 August 2022.
Remember to keep up to date with all ACGL's announcements by following them on Twitter and Facebook, as well as joining their Discord server.
Header image via Mediatonic.