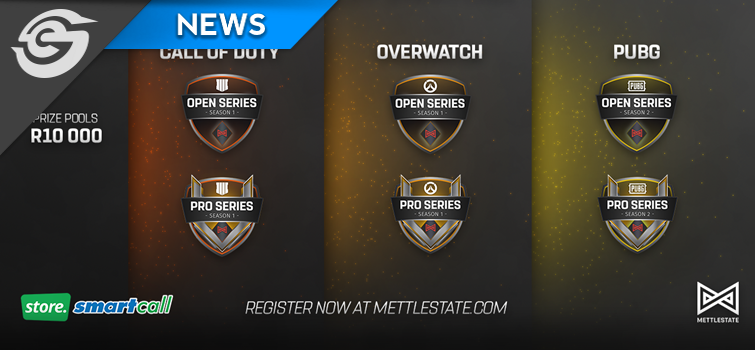 Registrations closing soon for Mettlestate League entries
Clint 'Zombie Dredd' O'Shea
South African Call of Duty, Overwatch and PUBG players have until 11 January 2019 to register their teams for the Smartcall leagues. The leagues are born from the recent R10 million partnership agreement announced between Mettlestate and Smartcall.
A total prize pool of R10,000 per title is on offer across 'Pro' and 'Open' divisions. The prize pool breakdown can be found below. The Call of Duty and Overwatch leagues will be the first season for the titles, while the PUBG is heading into its second season. The length of time allocated per season is not yet clear but I would suggest expecting a season to last a month or two.
According to the Mettlestate website, "each month Mettlestate will be hosting an online league where the best of the best will compete for a position in the Pro Series. The top 8 teams will go into the Pro Series and the rest of the teams will be in the Open Series, competing to prove themselves worthy of the Pro Series."
With time running out, hit the link of your preferred title to get signed up:
Prize pool breakdown per title per season:
Pro Series
1st: R5,000
2nd: R2,000
3rd: R1,000
Open Series
Cape Town 10s CSGO Cup
If you prefer CS:GO to the other titles on offer, Mettlestate is hosting the Cape Town 10s CSGO Cup in February. Registrations are open now and will be followed by an online qualifier. The top two male and two female teams will play at the Cape Town (Rugby) 10s where R100,000 will be up for grabs. Qualifying teams will need to make their own way to Cape Town on 1 and 2 February if they qualify.