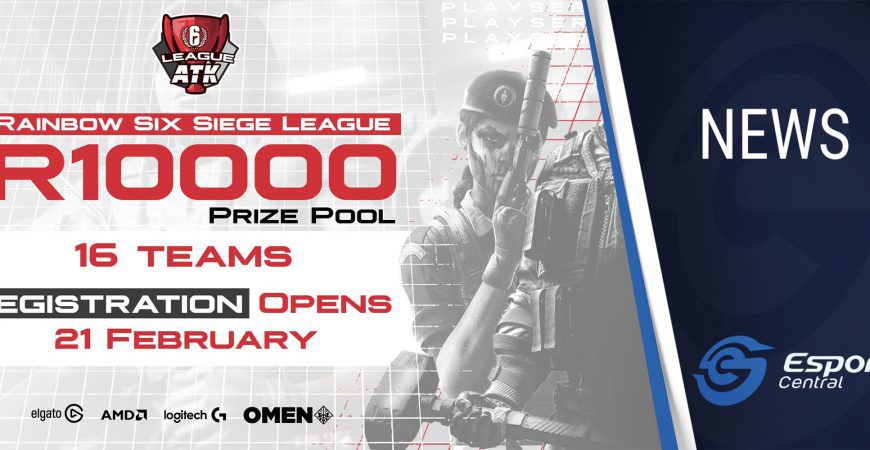 ATK Rainbow Six Siege League registrations open – What you need to know
ATK Arena has been very busy, with their CS:GO squad qualifying for the Closed Qualifier for ESL One Rio set to take place in Dubai, their expansion into League of Legends, and their next Saturday Social event that takes place on 29 February, to name just a few announcements. ATK also recently announced their Rainbow Six Siege League with a prize pool of R10,000 and today, 21 February 2020, registrations will open up. Here's everything you need to know about the local Rainbow Six Siege league.
Invited teams
This week, ATK announced four invited teams that will compete in the Rainbow Six Siege league, namely:
How to register and league start date
Registrations for the ATK Rainbow Six Siege league opens up midday on 21 February 2020. The league will be played on PC and feature 16 teams in total, so there are 12 spots to fill. The invited teams take up the first four spots.
You can register your team on the league's Quicket page. Team registration costs R500. This will cover your core roster and up to two additional subs. Some additional notes for registration include that:
The ATK Rainbow Six Siege league kicks off on 16 March 2020 at 09:00 SAST. Estimated completion of the league is between 1 and 3 May.
ATK Rainbow Six League prize pool and format
If you are interested in joining the ATK Rainbow Six Siege league, then you need to know what is at stake and what the tournament format is. Keep in mind that this is an online league, while they do plan to branch out into LAN play-offs in the "very near future". Check out those details below.
Prize Pool (R10,000 total):
1st Place – R3000
2nd Place – R2000
3rd Place – R1500
4th Place – R1000
5th Place – R750
6th Place – R750
7th Place – R500
8th Place – R500
Tournament Format:
16 Teams
Platform: PC
Group Stage into Double Elimination
Pro League Ruleset
Map Veto System
Ranked Map Pool
Match times decided by captains of two teams – No fixed times.
Please note that your match times have to be confirmed prior to the start of the match week.
The schedule will be posted in the Discord channel – League Starts March 16th
Estimated league completion: 1 – 3 May (TO BE CONFIRMED)
Fine print rules will be posted in the Discord
So there you have it, everything you need to know about the ATK Rainbow Six Siege league for local players to participate in.
Header image via ATK Arena