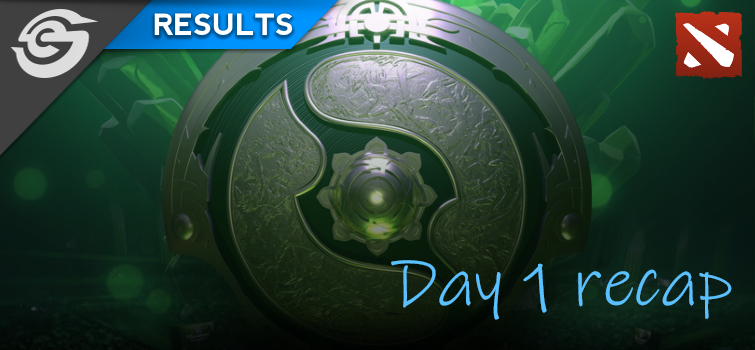 The International 8: Main Event day one recap
Jay 'NinjaBunny' Putzier
The International 8 (TI8) Main Event kicked off yesterday at the Rogers Arena in Canada. The main event started with the opening ceremony that was, by Valve standards, rather average in my opinion. The 16 teams that qualified from the group stage were introduced onto the stage, getting a first look at the new stage and arena for this year's tournament. The ceremony finished off with a welcoming message from the "lord" himself, Gabe Newell.
Team Liquid vs Optic Gaming
The first match up for the day saw Team Liquid face off against Optic gaming in the upper bracket. It pitted two previous TI winning captains against each other in KuroKy from Liquid and PPD from Optic.
Game one
Game one's draft seem standard with both teams getting the heroes that they wanted for their respective strategies. This was until the end where Liquid picked up a last pick Alchemist for their star player Miracle. This was a big setback for Optic who were now on the back foot from the minute one as they knew they had to beat the timing window of a farmed Miracle. Liquid on the other hand were fine taking small skirmishes around the map and causing enough of a distraction in the early game allowing Miracle the space he needed to farm.
As Miracle grew into the match with more and more farm, it became very clear that Optic had nothing to deal with a farmed Alchemist. Relying only on a single stun, they simply did not have the damage output to nuke Miracle down. Liquid won fight after fight, and kept the pressure on by pushing down all Optics outer towers. Optic eventually called GG only 30 minutes into the game, once they realised that they had no way back into this game.
Game two
Liquid's draft in this game seemed more of an in your face line up, as they picked heroes to dominate the laning stage. MinD_ContRoL on Batrider seemed to be really enjoying himself. On more than one occasion he fed on PPD's Crystal Maiden, killing him no less than five times in the early game.
Optic had drafted a Phantom Lancer as their hard carry, and knew they just had to buy time for Pajkatt to come online. Liquid knew this as well and began to take the fight to Optic, disrupting their flow. The undoubted star of this game was GH on his Earth Spirit. His rotations and ganks were flawless, and it seemed like he was applying pressure everywhere on the map. Getting himself involved in 26 of Liquids 32 kills in the game. Liquids' ganking and rotations around the map eventually became too much for Optic, and Liquid marched on in the upper bracket after a 2-0 series win.
PSG.LGD vs Virtus.pro
The second match of the day brought the best in the east against the best in the west. China's LGD squared off against the Polish powerhouse Virtus Pro. This promised to be a mouth watering match, with both teams coming off a very successful year of Dota.
Game one
The drafts in this game were of opposite mind sets and play styles. LGD drafted themselves a Drow strat, with a last pick Storm Spirit. VP, on the other hand, opted for a more team fight orientated line up. This was typified by their decision to pickup Enigma. LGD started off the game with a dominant laning phase and seemed to be on course with their early push. With core items being picked up on VP's heroes, such as the blink dagger on Enigma, they started to fight back and seemed to have LGD on the ropes. Team fight after team fight went the way of VP, and it looked like Virtus Pro was going to over run the Chinese team.
Then came the moment, that game changing play every Dota player dreams of making. LGD's Maybe on the Storm Spirit perfectly baited out a black hole from 9pasha of VP, which caught no one (Eds: Not the VP player, he literally caught nothing but air). After winning the fight LGD realised this was their chance and pushed high ground. When no buy backs came from VP, LDG went straight for the throne and forced the GG from VP.
Game two
LGD came out the gates hard and fast in game two after seeing VP pick up an Alchemist on No[o]ne. Slugging it out in the early game with VP and forcing them to send No[o]ne into the jungle at an early stage. The constant ganks and pressure around the map from LGD eventually became too much for VP, and they tapped out at the 35 minute mark. This dropped them to the lower bracket. LGD marched on to face off with Liquid in the upper bracket semi-finals.
The stars of this game had to go to the supports of LDG xNova and fy. The vision from the wards of xNova allowing them to always know where and what VP were up to. fy's Tusk was a constant presence around the map, getting himself involved in 23 of LGD's 30 kills.
Lower Bracket Bo1 knockout matches
The last games of the day were the best of one lower bracket games. One final chance for these teams to throw whatever they have to stay alive at TI8. A loss for any team would spell an end to their TI8 journey. The first of the elimination games saw Fnatic up against Team Serenity. Serenity started off the better of the two with pyw on tiny causing havoc in the early game. Snowballing off their solid early game start, Serenity made Fnatic the third team to be sent home.
The second game saw TNC Predator and Mineski in a battle of the SEA region. Mineski drafted a more late game lineup with Spectre as their hard carry. TNC, on the other hand, had a earlier in your face draft with heroes such as Tiny, Clinks and Pugna. TNC started well knowing they had to end early before Mushi's Spectre became too much to handle. They couldn't shut down the Spectre, and thus became the next team to have there TI chapter closed.
Following that we saw last years runner up Newbee take on the fresh blood of Winstrike Team. Winstrike played a more clinical game, executing there draft to near perfection. Winstrikes nongrata was the unanimous mvp in this game, disrupting Newbee at every turn on his Clockwork. Newbee fought hard but not even with all their experience could they save themselves from an early trip to the airport.
Ending the days games was VGJ.Thunder and Vici Gaming in a chinese battle to the death. Vici came out victorious in a game that was hard fought by both teams. It looked like an even game and hard to call between the two right up until about the 20 minute mark. VGJ started making a few mistakes that were heavily punished by Vici. Capitalising on these mistakes Vici pushed on and shoved VGJ out of TI.
What about day two?
What can we expect from day two? We've already seen the CIS and tournament favorites Virtus Pro knocked down to the lower bracket, and previous TI winners Newbee are out of the competition altogether. You can catch all the action from 19h00 SAST on Twitch. Out of all the action tonight, I'm most interested to see if Evil Geniuses can carry on there good form and beat Team Secret.