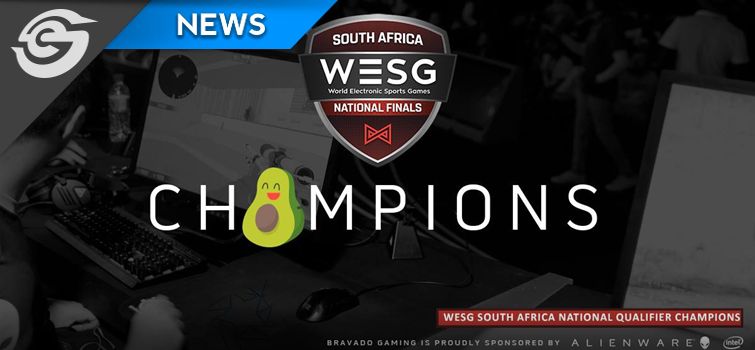 Bravado sweep WESG SA Qualifiers
The World Electronic Sports Games are fast replacing the ESWC competitions of previous years in the minds of esports fans as the big chance for South Africans to earn a trip overseas. Going overseas is of course always a massive opportunity for our best players and teams to gain valuable experience against a higher tier of competition than is possible locally. Perhaps even to make their mark on the world stage. Last weekend's online Semi-finals of the South African CS:GO Qualifiers, run by Mettlestate, was exactly that massive opportunity.
Big Dream(hack)
In a post-Dreamhack Winter world after Bravado Gaming's impressive run all the way to the Grand Final, the incentive for Bravado to follow that up with an emphatic showing against South African opposition was certainly there. Equally, their local opponents had plenty of motivation to try to topple the first team to really put South African Counter-Strike in the global spotlight. To try prove they themselves are just as good as Bravado and earn a spot at WESG's World Finals in China next year.
What happened?
It's in the title, dear reader. Bravado came back from Sweden and had a largely trouble-free run in winning another WESG Qualifier to book their trip to the World Finals in China next year. It's exactly what they needed to do after their Dreamhack Winter campaign in Jönköping, Sweden, the weekend prior. The only acceptable outcome to follow up a monumental achievement like that, was to come back home and stamp their authority on the SA scene.
There were a few encouraging signs for Energy Academy in the Semi-final against Bravado. Both Mirage and Train were quite close with 16 – 13 and 16 – 12 score lines in BVD's favour respectively. Being an almost entirely new iteration of Energy Academy, the team employed quite a loose style of CS. Bravado seemed content to brawl with the Academy side on their terms, rather than play to their usual structures. This contributed to a much closer than expected encounter as this Academy side has no shortage of firepower themselves. The US-based team managed to eventually wrestle away both maps, but not without being pushed hard by EN Academy. Encouraging signs for Academy if they manage to stay together into 2019 and build the strategic side of their game in addition to their undoubted skill.
Lacking in Energy
Energy eSports were up against Goliath Gaming in their Semi-final. On every occasion these two teams have faced off in playoff series this year, Energy have had little trouble dispatching of the team with the biblical name in some extremely one-sided matches. This time around, we were instead treated to a series of biblical proportions. GG put up a massive fight and it took some incendiary individual plays from some of Energy's young stars to pull the match out of the fire for them.
Energy narrowly squeezed out a 16 – 14 win on Mirage, before this feisty Goliath team struck back with a 17 – 19 overtime victory on Cache to level the series. Overpass went to Energy, 16 – 12, largely thanks to big performance from Gareth "Mistem" Ries. GG's players all had their moments and contributed well for their team, although Richard "deviaNt" Groves noticeably struggled on Mirage and Overpass. It was an impressive first online tournament for the new-look Goliath under the leadership of Dean "massacRe" Davids. Energy looked lacklustre, with a noticeably poor performance from Trevor "kaNi" Morley and a far less dominant than usual Robby "bLacKpoisoN" Da Loca showing. Terrorist sides appeared particularly rudderless compared to what we're used to from this team.
Sweet, sweet disappointment
I'm sure Bravado were not at all disappointed in easily taking the series thanks to cruising to 16 – 5 and 16 – 7 wins on Dust II and Overpass. In probably the most anticipated showdown of 2018 in local CS:GO, the Grand Final just didn't deliver. Energy didn't show up at all. Or should I say, the same version of Energy that played against Goliath went straight to the final and came up against a much better team. It's a massive shame that the all-conquering Energy side that were mostly dominant in South African CS:GO for the last 12 months appeared to be a spent force. This version of Bravado versus what we know Energy to be capable of would have made for a classic matchup.
I guess it's unreasonable to expect EN to have maintained their former level of play for such a long period of time, especially with them having so little trouble beating local opponents for the majority of that time. Perhaps passing the in game leadership duties around between kaNi and bLacKpoisoN might have hurt them. It would certainly explain their current lack of impetus and direction on the T- side. They also need both those players to show up better on the server when it comes to fragging. Is it even reasonable to expect bLacKpoisoN to go back to hard carrying the team along with calling? That's never been sustainable internationally with the world's best players, so it's doubtful it can be expected out of a South African team. Energy have some big issues they need to fix ahead of PLG Grand Slam this week and Dreamhack Mumbai in a few weeks' time.
Avocado lovers
For Bravado's adoring fans, they got the result they wanted, but perhaps not much of a spectacle. Bravado will get another bite at an international tournament courtesy of this result, which is welcome news for them and all South African esports fans. All five of their players ended up in the top six best-rated players throughout the tournament. Special mention must go to Ruan "ELUSIVE" van Wyk for finishing as the top rated player of the tournament with a 1.37 HLTV rating. For a player more known for his supportive plays and clutch abilities, beating out his high-fragging teammates likely gave him reason to smile. As if the tournament win wasn't enough. Bravado confirmed their status as the best South African team right now with this online win. I can't wait to see Bravado and Energy potentially going head to head at Dreamhack Mumbai on LAN. Although on current form, I'd have to heavily favour Bravado. Still, one can only hope for an exciting match for the international spectators.
[Header image via Bravado Gaming Facebook page]